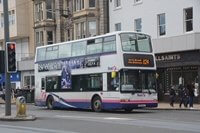 East Coast Buses Ltd, a wholly-owned subsidiary of Lothian Buses Ltd, has agreed to take over the East Lothian bus services of First Scotland East Ltd.
First Scotland East announced it was to close its operations and withdraw services from August 14, 2016. An agreement has been reached which will see East Coast Buses purchase the company's Musselburgh and North Berwick properties, with all staff at both depots being given the opportunity to be transferred over to East Coast Buses under TUPE. The agreement does not include any vehicles.
East Coast Buses said it will be making significant investment to improve services, including refurbishment works to Musselburgh garage, increasing the number of vehicles and deploying a new fleet of vehicles.
East Coast Buses will introduce the following services from 14 Aug 2016:
107 – A new 60 minute timetable introduced seven days a week (30 minute Monday – Friday peak). This part-replaces First Service X6/106.
124/X24 – A new 30 minute frequency service introduced Monday to Saturday (60 minute frequency on Sundays). Three morning and afternoon buses will run a limited stop service as X24. This part-replaces First Bus 124/X24.
The operator will continue with the 124, 125, 126 and 127 commercial and school services
Richard Hall, Managing Director of Lothian Buses, said: "This deal will protect key bus services and jobs but the benefits go much further than that.
"The residents, workers and businesses of East Lothian rely on buses for their daily lives and well-being.
"We are pleased to be in a position to take on and continue providing these vital services and be part of the local economy."
Paul McGowan, Managing Director of First Scotland East, commented: "Throughout our consultation into the future of bus services in East Lothian, our priority was to safeguard jobs and protect key services.
"I am therefore pleased that we have achieved that through the proposed sale to Lothian Buses.
"I'd like to thank all my colleagues in East Lothian for their hard work and loyalty over the years.  We will be fully supporting them as they transfer to their new employer.
"We are proud to have served the East Lothian community and would like to thank passengers for travelling with First Scotland East over the years.
"I can assure our customers that we will continue to run services as normal up to and including August 13 and will ensure a smooth transition."
Minister for Transport and Islands, Humza Yousaf, added: "The announcement that Lothian Buses is acquiring First's operations in East Lothian is welcome news for the communities who have expressed their desire to see these vital bus services maintained.
"Importantly, this also safeguards jobs at the Musselburgh and North Berwick depots and is an excellent outcome from the constructive and open approach taken by both companies and the Council in dealing with this matter.
"I look forward to hearing how Lothian Buses works in partnership with the relevant local authorities to make a success of its new services."