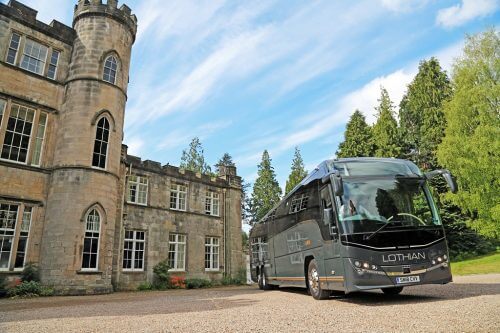 The service will provide live-guided tours to locations across Scotland
Lothian has officially launched its Lothian Motorcoaches wing.
Lothian Motorcoaches will sit alongside and complement the Edinburgh Bus Tours operation by offering bespoke day tours to both resident and tourism markets across Scotland, as well as associated private hire services specialising in high-end corporate events and weddings.
Lothian has acquired five Plaxton Panther 3-bodied Volvo B11RTs for the operation.
Each 61-seater is fitted with WiFi, USB charging points, reclining seats with leather headrests and LED lighting, accented in a mild red effect to add to the interior ambience.
Lothian Motorcoaches will provide live-guided coach tours to various historic and picturesque locations across Scotland, including Loch Lomond, Stirling and St Andrews.
Richard Hall, Managing Director for Lothian, said: "We are delighted to launch Lothian Motorcoaches, offering coach tours and private hire services for the residents and visitors of Edinburgh, the Lothians and beyond.
"Working in close partnership with Plaxton, we have designed a high quality fleet of custom-built luxury executive coaches, fitted with the latest technology and premium customer focused features.
"Our specially trained drivers and guides aim to deliver an unrivalled customer experience, which combined with outstanding vehicles proudly built in Britain, offer a unique package for both the residents of Edinburgh and the Lothians and the important incoming tourism market that Scotland is lucky enough to enjoy. We look forward to commencing operations and welcoming the first of many customers aboard."
Paula Ward, Regional Leadership Director, VisitScotland, said: "Scotland's reputation as a quality destination relies on continued investment and innovation to ensure that current provision meets future demand.
"The launch of Lothian Motorcoaches demonstrates a real commitment to further enhancing the tourism offering in Edinburgh and beyond.
"The new tours will encourage visitors to our capital city to visit some of the beautiful surrounding countryside and world-class attractions that can be enjoyed in Scotland.
"Tourism is more than a holiday experience – it is integral to sustaining communities across Scotland by generating income, creating jobs and stimulating social change."