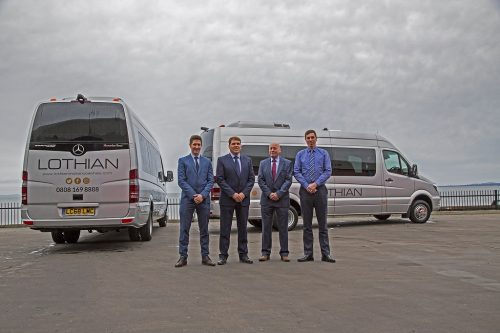 Two 18-seater Sprinters with high-spec interiors join Lothian Buses' coach arm
Lothian Motorcoaches has unveiled two new additions to its fleet, in the form of Mercedes-Benz Sprinter minibuses.
The vehicles feature WiFi, USB charging points, refrigerator, privacy glass and 18 full leather seats with arm rests and luggage racks. The vehicles were supplied by EvoBus UK.
Willie Hamilton, Coaching and Tours Manager for Lothian Motorcoaches, said: "We are pleased to launch these new luxury minibuses as part of our portfolio.
"As our business continues to grow, it is important that we invest in our fleet to ensure we are driving innovation and continued high standards as well a varied range of options for our discerning customers.
"Working in collaboration with Daimler, we have specified a high quality vehicle, fitted with the latest technology and premium customer-focused features."
Ian Wallace, Senior Manager Bus, Minibus, Chassis Sales for Daimler, said: "We are obviously delighted that such a high-profile operator as Lothian has chosen Mercedes-Benz vehicles to complement the fleet and look forward to developing a good working relationship over the coming years."