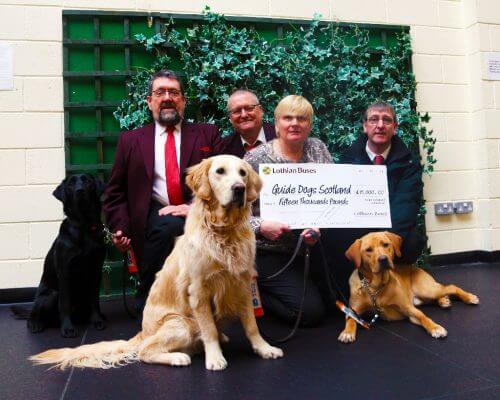 Thanks to the fundraising efforts of staff at Lothian Buses, a donation of £15,000 has been made to Guide Dogs Scotland. The money will go towards the care and training of three brand new puppies.
The company has raised the sum from charity events held over the last year, which include a naked calendar and a sponsored bike ride.
The puppies will initially live with puppy walkers, and have been given very special bus-related names.
When Marine, Buster and Diesel are ready, they will graduate to the Guide Dogs Scotland training facility in Forfar.
Anne Rowse, Community Fundraiser at Guide Dogs Scotland, said: "We would like to give huge thanks to the staff of Lothian Buses for their fantastic support of Guide Dogs Scotland in 2016.
"It has been a delight to work with such passionate and dedicated people.
"The staff have embraced our charity with open arms and worked tirelessly towards naming not just one, but three puppies that will go on to change lives. At Guide Dogs we work to ensure that people with sight loss are never left out of life, and we rely on donations to do this. We are therefore incredibly grateful to Lothian Buses for their outstanding fundraising efforts."
Gaynor Marshall, Lothian Buses Marketing and Communications Director, added: "Our staff have real passion and enthusiasm to help others and the amount raised demonstrates our commitment to supporting Guide Dogs Scotland.
"Over the past few months our teams have come together in a series of fundraising initiatives across our business and it is thanks to the dedication of our staff that we are absolutely delighted that three people will benefit from the assistance of Lothian's sponsored Guide Dog puppies; Marine, Diesel and Buster."
Lothian Buses has also worked with Guide Dogs Scotland to allow individuals to try some of their vehicles before they attempt real-life travel in the city.