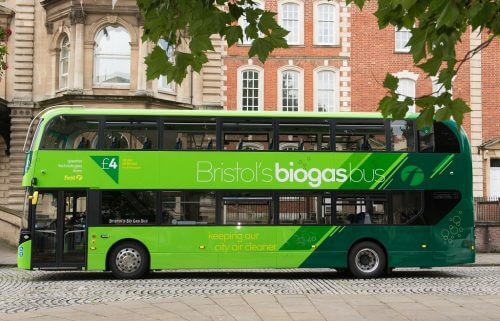 Six successful bids split the funding for gas and electric vehicles, with the largest new procurement to be a 110-strong biogas fleet in South Gloucestershire
Local authorities and operators in Bristol, York, Brighton, Surrey, Denbighshire and Wiltshire have been awarded funding under the Government's Low Emission Bus Scheme to help them buy 153 'clean' buses.
The successful bidders will use the funding to buy new electric and gas buses, and to install stations to fuel or charge them.
The Government said it is determined to clean up air in towns and cities across the country, and the investment in green buses comes after the publishing of an air quality plan last month.
Transport Minister Paul Maynard said: "Low emission buses are an important part of our plans to make motoring cleaner and improve air quality across the country.
"New greener buses will be more comfortable for passengers, they are cost efficient and are good for the environment.
"I am pleased to announce this latest group of successful bidders, which should make a real difference to air quality in towns and cities across the country."
The largest successful bid was a joint bid by First West of England and South Gloucestershire Council. The council was awarded £4.8m, which will be put towards 110 gas buses for services around Bristol. Of the 110 buses, 30 are destined to be used on the MetroBus rapid public transport system, which will utilise a combination of segregated busways and bus lanes.
First West of England Managing Director, James Freeman, said: "Since 2015, when we became an official partner of Bristol Green Capital 2015, we have been wholly dedicated to 'greening' our fleet. As a result of more than £25m of investment by First, Bristol already has the largest concentration of low-carbon buses anywhere in the UK, and our commitment to reducing emissions continues.
"We are delighted with the decision by the DfT to make this funding available and we will be working with our local council and industry partners to make the best use of this welcome decision, thus carrying the Bristol Green Capital legacy forward."
The other successful bidders are:
 Denbighshire County Council – £500,000 for four electric buses to be used on services in mid-Denbighshire;
City of York Council – £3.3m for 24 electric buses to be used on Park & Ride services in York;
Surrey County Council, Guildford – £1.5m for nine electric buses to be used on Park & Ride services in Guildford;
 The Big Lemon – £500,000 for three electric buses to be used in the Brighton area; and
 Go South Coast / Wiltshire County Council – £500,000 for three electric buses to be used on Park & Ride services around Salisbury.
A York City Council spokesman told CBW that it has not yet been decided whether the Metrodecker EV which it has been trialling will form part of the electric fleet it is looking to procure with the funding, though he did explain that some of the routes have low bridges and will require single-deckers instead.
Marc Bichtemann, Managing Director for First York, told CBW: "We welcome the decision by the Department for Transport to make funding available for zero-emission electric buses in York.
"This is great news for the City of York, and another positive step to improve air quality in our beautiful city."
A spokesperson for Denbighshire County Council said: "The Council is always looking for ways to be more environmentally friendly and to reduce its carbon footprint.
"We had submitted a bid for funding to introduce low emission buses and we are delighted that the bid has reached this stage. The grant will fund 90% of the difference in cost between four diesel and four zero- emissions buses. We would expect this to be cost –neutral for the Council, because we expect that remaining 10% cost difference to be funded by fuel savings from using electricity rather than diesel."
A spokesman from The Big Lemon told CBW: "We're looking at a whole range of buses for council contract renewals and will decide on the electric buses we will have as part of that process.
"This funding represents a real vote of confidence from the UK Government and shows that it is recognising the good work that we do."
As this issue of CBW went to press, the make and model of all of the vehicles which will be purchased with the funding were still to be confirmed.
The Government's support for low emission buses is one part of a £600m package of measures from the Office for Low Emission Vehicles by 2020, plus £270m announced in the 2016 Autumn Statement to support the roll out of low emission cars, taxis and buses and supporting infrastructure.