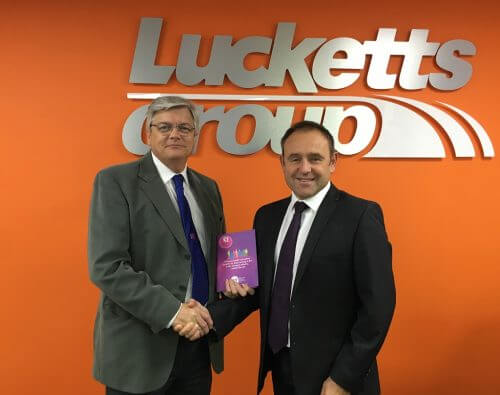 Fareham-based Lucketts Travel has pledged to pay for every single member of staff to join The Transport Benevolent Fund (TBF).
TBF supports those who work in the public transport industry in Great Britain when they are in need, hardship or distress. Lucketts' employees could receive cash grants, therapies such as physiotherapy, counselling, medical consultations, scans and tests, convalescence and bereavement grants, should they need it.
Managing Director, Tony Lawman, said while he hoped staff would not come to be in a position to need some of the TBF's services, he was pleased to be able to offer them for free.
"Creating an enjoyable and inspiring place to work is a fundamental part of our values and we strive to do all we can to help our staff both inside and outside of the workplace. This latest addition to our staff benefits scheme will provide a fantastic resource for employees should they need it and we're delighted to foot the bill."Michael Gibson, TBF organiser for South West and Wales, said: "We are delighted to welcome Lucketts Travel into the TBF fold.
TBF is all about helping to improve members' work-life balance and reduce staff turnover for their employer. We are finding more and more employers are seeing the advantages of TBF membership for their employees and the benefits it brings to all parties.
"The Fund's work is best illustrated by the volume of awards to members, amounting to nearly £2.5m over the past 12 months.
"It just goes to show that, even in the 21st century, we can all do with a helping hand if life doesn't just go according to plan."