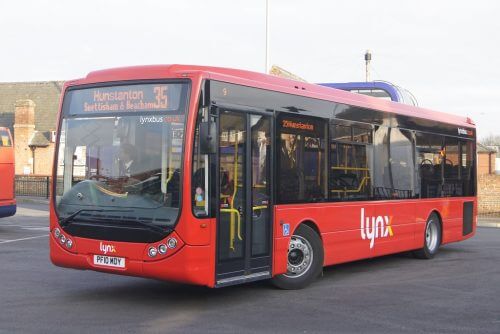 Lynx has announced that from September 4, 2017, it will be launching three new services – the 37 from King's Lynn to Downham Market, the 48 from King's Lynn to Gayton/Grimston and the 413 from Wolferton to Springwood High School.
The King's Lynn-based independent operator is also making some changes to existing services.
All three of the new services were previously operated by Stagecoach in Norfolk. Lynx said it will make some changes, successor to the Norfolk Green operation to the timetables to help keep buses to time. It has also made some changes to fares, with some tickets slightly increasing in price, which can be offset by purchasing two-trip tickets.
Service 34 & 35, from King's Lynn to Hunstanton, has seen timing changes, with Service 35 normally departing both King's Lynn and Hunstanton at 00 and 30 minutes past each hour. Service 34 generally departs at 15 minutes past each hour from both ends of the route. Service 35B has been renumbered to 35A, and the off-peak service 33 has been withdrawn for the Autumn season.
Service 36 from Hunstanton to Wells-next-the-Sea has seen a minor change, with an afternoon school journey from Smithdon High School to Burnham Deepdale now operating via Hunstanton Bus Station.
Service 39 from King's Lynn to RAF Marham has seen a service reduction to Shouldham. Lynx said this is 'due to inconsiderate parking by some residents in Westgate, Shouldham.' Most journeys from King's Lynn will serve Westgate on request to the driver.
The morning journey on Service 67, from Three Holes to King's Lynn via Emneth, will now stop at Highgate School and continue upon request to Gaywood, terminating at Springwood High school.