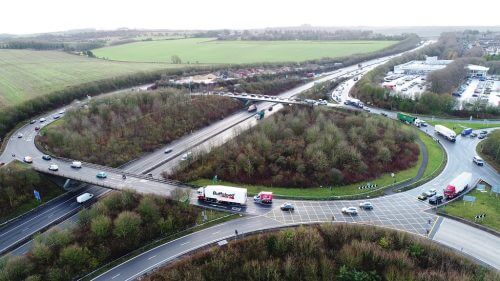 A major road upgrade may come as a welcome relief for coach drivers, with the M3 and A34 in Hampshire being notorious congestion hotspots. Junction 9 of the M3, where it meets the A34 near Winchester will be redesigned under the plans to create dedicated free flow lanes, which will allow drivers travelling between the two coaching arteries to avoid using the current junction roundabout.
The roundabout itself will be redesigned into a new 'dumbbell' layout, which Highways England (HE) said will increase capacity and improve safety.
A public consultation is open until February 19, which can be found at highwaysengland.citizenspace.com/he/m3-junction-9-improvements/. Construction could start in 2021 and take around two years to complete.
HE Project Manager, Simon Hewett, said: "With more than 6,000 vehicles using the junction each hour during peak times, it can often become congested, with queues backing up onto the main carriageway. The proposal we have published will resolve that by separating out local and long distance traffic."
Funding for the scheme comes from the Department for Transport's £15bn Roads Investment Strategy, announced in 2014, which is providing people with better journeys, cutting congestion and improving the economy.