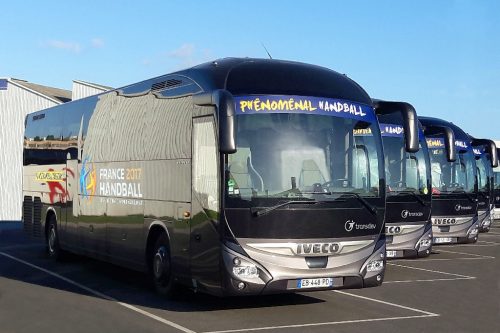 Handball Federation has 44 Iveco Bus coaches at its disposal for duration of tournament

FRANCE Transdev is to use 44 Iveco Bus Magelys coaches to transport teams from 24 nations during the Handball World Championship in France. The tournament will see 84 matches take place across eight different cities between January 10 and 29.
The coaches will be placed at the disposal of the French Handball Federation, which will provide all transport within the eight French cities chosen to host the group stages, last 16 matches, quarter-finals, semi-finals, final and the President's Cup. The Magelys is powered by a Euro 6 400hp Cursor 9 engine that complies with emissions regulations thanks to a HI-SCR selective catalytic reduction system.
This patented technology optimises combustion, as the engine only draws in fresh air. Emission treatment is courtesy of an after-treatment system, downstream of the engine which does not use exhaust gas re-circulation.
Magelys has both active and passive safety sytems. Its self-supporting structure is hardened in a cataphoretic coating to ensure long-lasting protection against corrosion and it is designed to pass the R66/01 rollover test. The latest onboard technological innovations include the LDWS (Lane Departure Warning System) and AEBS (Advanced Emergency Braking System) automatic braking.
Sylvain Blaise, Vice-President of Iveco responsible for global operations for Iveco Bus, said: "We are delighted that our flagship product, the Magelys, has been chosen to transport the teams, as it is designed and manufactured in this host country. Commitment, performance and team spirit, these are the values we all share."
Iveco Bus is a brand of CNH Industrial N.V., a leader in capital goods listed on the New York Stock Exchange and on the Borsa Italiana in Milan. Iveco Bus designs, manufactures and markets a broad range of vehicles to meet the needs of public and private operators. Over 5,000 people are employed at two factories in Annonay, France and Vysoké Myto, Czech Republic. Both factories were awarded the bronze medal in 2013 following their WCM (World Class Manufacturing) audits, an international methodology for managing manufacturing processes according to best standards worldwide.