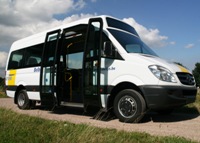 The Belgian operator has ordered 27 Citea SLFs and 41 VDL MidCity dial-a-ride buses
BELGIUM Belgian passenger transport company De Lijn has ordered 27 Citea SLFs and 41 VDL MidCity dial-a-ride buses from VDL Bus & Coach.
"We are proud De Lijn chose us as their supplier and are confident our buses will make a very positive contribution to the sustainability and profitability of the De Lijn fleet. VDL Bus & Coach is the only remaining bus and coach manufacturer which carries out its production exclusively in Western Europe. This order is therefore also very important for employment in Belgium," said Willem van der Leegte, Managing Director VDL Bus & Coach Belgium.
All the vehicles meet the Euro 6 standard. The MidCity dial-a-ride buses are scheduled for delivery by April 2014 and the Citeas by the end of July 2014. The vehicles will be put in service on various lines in Flanders.
The Citea SLF-120/310s are 12m long and powered by Euro 6 FPT Cursor 9 engines. They can accommodate 105 passengers (25 seated and 80 standing). The lowfloor construction makes boarding and alighting exceptionally easy and offers optimal access for passengers with a baby buggy or wheelchair. Cantliver seat mounting ensures the floor area is clear and easy to clean.
The MidCity buses feature a multifunctional lowfloor area suitable for standing room or for wheelchairs. This lowfloor conversion was developed in-house by VDL Bus & Coach. All 41 will have 13 seats (including two folding seats) plus nine standing spaces. Its compact dimensions (total length is 6.944m) make the MidCity highly manoeuvrable and suited for transport in the narrow streets of old city centres.
De Lijn is the commercial name for the 'Vlaamse Vervoermaatschappij', the Flemish Transport Company, an autonomous government company for city and regional transport. De Lijn aims for high quality, customeroriented public transportation and delivering punctual, reliable and rapid service provision with satisfactory capacity, frequency and safety. A total of about 10,000 people are employed by the operation with around 7,500 working for V.V.M. De Lijn and other 2,500 for bus companies which run on behalf of V.V.M. De Lijn.