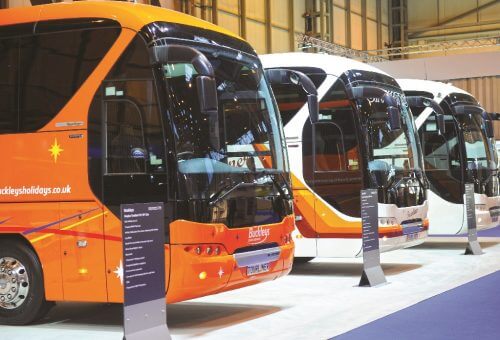 MAN Bus & Coach has recorded a successful Euro Bus Expo 2016 at the NEC in Birmingham after reaching landmark sales figures.
The company sold 11 new vehicles, with a further three coaches sold following enquires made at the expo.
The company said some of the sales were made to regular customers, including Buckley's Tours and Seaview.
It also welcomed new customers, Goodfellow Travel, H & S Mini Coaches, Castaway and Roberts.
Wayne Ulph, General Manager MAN Bus & Coach, said: "We had an outstanding show and incredible sales, which made it one of the best shows we have attended.
"It was a great opportunity for us to meet with old and new customers and to display three Tourliner vehicles which proved to be a real hit with people visiting the exhibition.
"We had a total of 11 sales during our three days at the NEC. We also took many enquiries which as a result has led to a further three sales post-exhibition, which is a great result for MAN Bus & Coach.
"The exhibition was a chance for us to forefront the brand as a leading manufacturer in the bus and coach industry and it was a pleasure to welcome so many visitors to the stand."
The MAN stand displayed two customer Tourliner VIP models from Buckley's Tours and GH Watts of Leicester. A third stock vehicle, a Tourliner P22 tri-axle,13.8-metre, 61-seater executive Select specification with air conditioning, powered by an MAN D26 Euro 6 440bhp engine with ZF Assist transmission, was at the forefront of the stand.