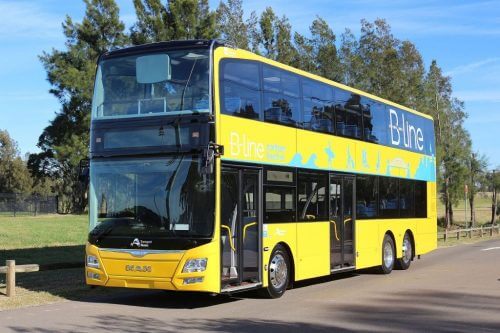 After absence of several decades, double-deckers return to Sydney in sizeable numbers
AUSTRALIA Thirty-eight 86-seat Gemilang-bodied MAN A95 double-deckers have been delivered to Transport for New South Wales by Penske Commercial Vehicles. New South Wales Minister for Transport and Infrastructure, Andrew Constance, says the new B-Line route, running between the Sydney CBD and the Northern Beaches, will be serviced by the three-axle double-deckers.
The MAN A95 low-floor bus chassis is powered by Euro 5 MAN D20 horizontal inline six-cylinder engine with turbocharging and intercooling that delivers 320hp.
"The extremely low levels of driveline noise and vibration, along with low exhaust emissions, benefit both the environment and passengers," Penske Commercial Vehicles National Bus Sales and Service Manager, Clint Stoermer, said. "The A95 chassis is equipped with a ZF EcoLife six-speed automatic transmission with integrated hydraulic retarder, all of which maximises operating economy and improves service life.
"The combination of stabilisers on all three axles with an extremely low centre of gravity means the on-road handling and passenger ride comfort of the A95 double-deck is simply unequalled.
"When combined with the latest braking system technology, which includes electronic braking system (EBS) as well as electronic stability program and roll over protection, it all makes for an extremely safe and comfortable driver and passenger experience."
The transformation of public transport on the Northern Beaches started on November 26 with the start of turn-up-and-go B-Line services between Mona Vale and Wynyard, as well as improvements to the local bus network.
Andrew Constance says the better bus network will add more than 3,200 extra weekly services across the Northern Beaches including 2,000 B-Line services, making it easier for customers to travel around the region and to-and-from the Sydney CBD.
"Northern Beaches customers are finally getting major service improvements with the new B-Line service offering a more reliable, convenient and frequent service," he said.
Commuter car parks will also be available at Mona Vale, Narrabeen, Dee Why and Brookvale. The first stage of the Warriewood car park will be open prior to Christmas, with Manly Vale due for completion in 2018.The launch of the B-Line services and the changes to the local bus and road network are just the first phase of improvements to public transport on the Northern Beaches and Lower North Shore. The implementation of morning peak bus lanes in Balgowlah and Neutral Bay is also proposed in early 2018, which would provide additional bus priority along the corridor and improve reliability of bus services for customers.
"These changes, along the with introduction of new and extended tidal flow systems on Military and Spit Roads, will improve traffic flow and provide greater reliability to public transport users," Andrew continued. "Whilst we'll see some initial benefits, construction work will continue in 2018 and public transport users will see the full extent of these improvements upon program completion. We'll continue to keep bus customers and motorists informed about these changes as we roll them out in 2018."