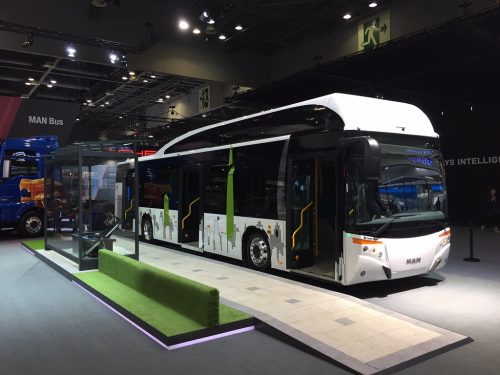 MAN winning breakthrough South Korean business for gas and double-deck products
SOUTH KOREA MAN is growing its product line-up in South Korea. The German manufacturer showcased a natural gas-powered low-floor city bus and a double-decker coach at the recent Seoul Motor Show held at Goyang.
Buses powered by alternative drive systems are popular in South Korea due to their low emissions, says MAN. As a result many visitors to the show expressed interest in the Castrosua-bodied CNG-fuelled MAN city bus that was on display.
The 12m-long vehicle had a MAN A22 chassis powered by a 310hp E28 engine and could seat 29, six of those on tip-ups. Up to two wheelchair users could also be accommodated. A low-floor, three door design allowing passengers to board and disembark more quickly represented a new concept in a country where local fleets have primarily been made up of high-floor and low-entry vehicles. One private operator was sufficiently impressed to place an order for 30 MANs which are expected to be delivered by the end of 2017.
Carmen Fakler, South Korea Market Entry Project Manager, sees great potential for MAN's natural gas-powered low-floor bus, not least because two local manufacturers currently hold a duopoly on the market. "We are pursuing a clear objective in South Korea: breaking out of a niche market, to achieve mass-market penetration," she said. "Each bus developed for South Korea is virtually a new creation due to the need to meet local specification and type-approval requirements."
The double-decker on display was bodied by UNVI and based on an RR4 chassis powered by a 460hp D26 engine. Recent weeks have already witnessed the delivery of seven similar vehicles and there are a further 45 to follow by the end of the year.
"Following the motor show in Goyang, which ended with great success, we are now looking forward to more positive results for MAN Truck & Bus Korea and a rosy future in the South Korean market," said Carmen.