The new MAN Lion's Coach has won the Coach of the Year 2020 award, two years after its official debut. The prize was handed over as part of Busworld 2019's opening ceremony and awards show in Brussels. The 22 European trade journalists on the judging panel were particularly impressed by the overall concept and the practical nature of the Lion's Coach, said MAN.
Joachim Drees, Chief Executive Officer of MAN Truck & Bus SE, said: "We are extremely proud that our new MAN Lion's Coach impressed the expert jury and won this coveted award. The Coach of the Year accolade is a perfect testament to the many years of commitment and hard work shown by the whole team.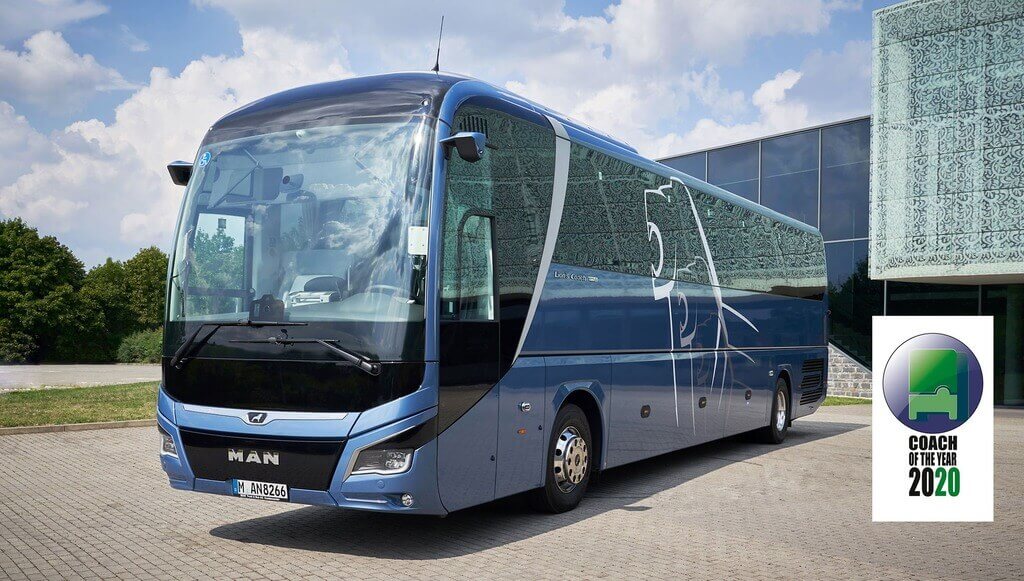 "They have worked tirelessly in the bus division and across departments to develop an outstanding vehicle and successfully bring it to market. This jury vote emphatically shows that we have achieved something special with the Lion's Coach."
The 22-strong expert jury invited five bus manufacturers from across Europe to take part in the Coach Euro Test in Sibiu, Romania, in early September. After a week of comprehensive testing, numerous test drives and intensive technical discussions, the jury decided that the MAN Lion's Coach was the winner.
Unveiled to the public at Busworld 2017 in Kortrijk, the Lion's Coach is available in four lengths: 12,101mm and 13,091mm as a two-axle vehicle, and 13,361mm and 13,901mm as a three-axle vehicle and is fitted with a number of safety features including the OptiView mirror replacement system for coaches, which featured in the vehicle presented for the Coach Euro Test and provides imaging on two displays that can be easily seen by the driver to eliminate the blind spot.
A pedestrian recognition system, a speed limit display and an automatic road sign recognition system further increase the number of safety features available to the driver.
Rudi Kuchta, Head of Product & Sales Bus and Speaker Business Unit Bus, said: "This award marks out the MAN Lion's Coach as a reliable and cost-efficient vehicle that makes bus operators' lives easier. This is appreciated by customers and experts alike.
"As a result, the new Lion's Coach has been able to significantly increase its market share in Europe since its launch, as well as being awarded numerous prizes.
"It is with good reason that the Lion's Coach is MAN's most decorated bus model and the tour bus of choice for top teams such as FC Bayern Munich, Paris Saint-Germain and the German national football team. Even so, it is a real honour to win the international "Coach of the Year" award and we are absolutely thrilled."