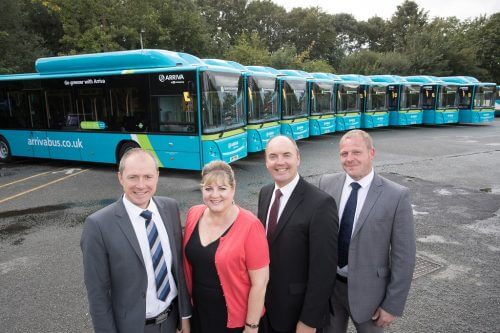 MAN Bus & Coach UK has delivered nine MAN Eco-City gas-powered buses to Arriva Merseyside.
The deal for the 18 tonne, low-entry chassis vehicles was made at the Euro Bus Expo at the NEC last October. They will be used on a Mersey Travel contract.
Phil Cummins, Area Managing Director at Arriva, said: "These MAN gas buses are part of Arriva's ongoing investment in improving environmental performance in our bus fleet and further helping the environmental sustainability of the services we provide to our passengers.
"Arriva was very happy with the first MAN buses we added to the fleet in 2013 and chose to go with MAN again based on the quality of aftersales support and service, as well as the fact they were able to deliver a bespoke specification for us."
MAN Chassis Sales and Technical Engineer, Graham Wilkinson, said: "Arriva is a prestigious customer and we have worked hard to meet the requirements demanded by the bespoke build.
"The buses are built bespoke to Arriva CNG specification, including on-board WiFi, USB charging points and E-Leather upholstery.
"We are delighted that once again MAN's reputation for service, back-up and aftersales has been recognised and that Arriva chose the MAN EcoCity to further grow the CNG fleet – which is 100% MAN."
Wayne Ulph, General Manager MAN Bus & Coach, added: "The vehicle is sold as a complete MAN product, so both body and chassis are supported through MAN.
"The bus bodies are made from lightweight aluminium and power is provided by a six-cylinder 270bhp E28 engine which meets the new Euro6c specification. They have a six-speed ZF EcoLife gearboxes and have four roof-mounted CNG tanks giving a capacity of 1,176 litres.
"Gas buses are part of our commitment to future-proofing technology for urban transport. Running vehicles on natural gas also makes it possible to save up to 30% on running costs as well as reducing emissions."
The new buses will be working alongside 10 of the original vehicles, the bulk of which are now operated by Arriva.