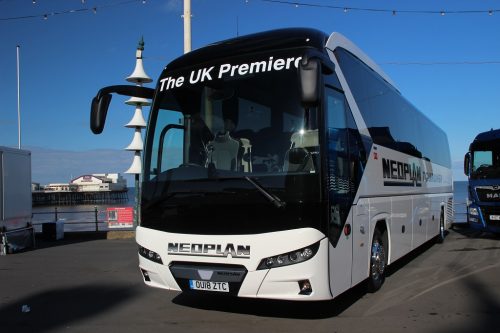 Latest addition to Neoplan range offers 57 seats on two-axles at 13.1m long
MAN was delighted to launch the latest addition to its UK range at the UK Coach Rally – the P10 Tourliner.
Wayne Ulph, General Manager, Bus & Coach Sales told CBW: "The inaugural customer, Johnson Bros Tours, entered its coach in the rally.
"The two-axle coach is equipped with 57 seats, a toilet and a servery. The model has come about due to the changes in axle weight."
"We've come to the rally with no intentions of doing a deal – we are here to support the industry and the rally. It's essential to see people."
On that note, in addition to a P10 coach that was parked in the trade area, MAN was also present with its hospitality truck. "I came to the rally last year for the first time in my current role," Wayne enthused.
"At the end of the Saturday, we had a number of people on-board our coach.
"Therefore, I asked our Swindon-based marketing team whether we could have the truck for this year's rally. I'm delighted to say it's been a focal point. It also shows we're serious.
"As well as being able to offer hospitality, there is a room we can talk numbers in if required."
One such deal completed at the rally was an order for a pair of P10s for Carvers of Ellesmere Port.
Asked about how MAN bus and coach is performing more generally, Wayne replied: "We've had lots of interest and my team is busy putting deals together.
"However, some customers seem reluctant to sign on the dotted line due to uncertainty over the precise standards of the clean air zones/low emission zones due to be implemented in a number of urban areas, including Nottingham, Leeds and Birmingham.
"We've calculated the market is down 22% on the year to date, while the car industry is reporting sales have fallen 17%.
"The lack of information about the so-called low emission zones is leading to huge uncertainty for operators, manufacturers and dealers alike."