RATP Dev has announced the sale of its subsidiary Bournemouth Transport Limited (trading as Yellow Buses and Yellow Coaches) to the management team led by David Squire (Managing Director) with Phil Pannell (Service Delivery Director) and Simon Newport (Commercial Director).
All three men are described as 'lifelong busmen,' and have a combined total of over a century of experience in the industry
The trio are now equal shareholders in the company, after purchasing it for an undisclosed sum.
The associated non-trading company of Vintage Yellow Buses Limited was also included in the sale.
All three men are described as 'lifelong busmen,' and have a combined total of over a century of experience in the industry.
David was appointed Managing Director of Yellow Buses in 2017, having started out as a traffic trainee with Crosville, then part of the National Bus Company, in 1978.
He later spent a decade at Arriva, before progressing to Managing Director of Warrington Borough Transport and later First Eastern Counties, before becoming RATP Dev UK's Commercial Director.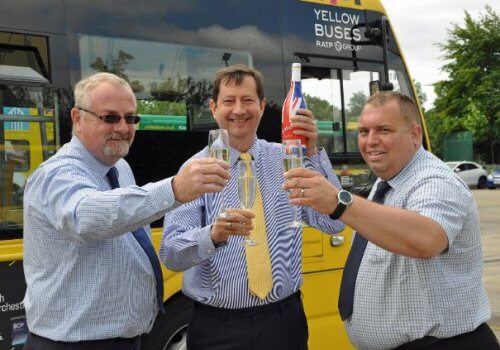 Simon also joined Yellow Buses in 2017 as Head of Commercial, after beginning his career in 1998 as a graduate trainee at First, before being appointed as Operations Manager for First Dorset in 2000.
He stuck with First before joining Damory Coaches, part of Go-Ahead Group, as Commercial and Operations Manager in 2012, later returning to First as General Manager in Dorset.
Finally, Service Delivery Director Phil joined in 2016, after a career including spells at Abellio, First and Western National, where he began as an apprentice fitter.
His previous role was Engineering Director at Abellio, where he was responsible for six garages in London and Surrey and around 790 vehicles and 62 ferry vehicles.
Today, the operator has a fleet of 140 buses and 16 coaches which carry just under 15m passengers a year over almost 5m miles, and currently employs over 410 staff.
Managing Director David Squire said: "The company has been transformed and energised over the last 18 months, we are seeing growth and increased ridership across our bus network, having improved punctuality significantly in 2018, together with a revamped, colour-coded and easy to understand network.
"Meanwhile, our coaching business continues to grow with National Express, private coach hire for groups and individuals and rail replacement activities all contributing to a much-improved commercial performance.
"This buyout puts the local management team firmly in the driving seat. We are now the masters of our own destiny.
"We remain as BTL and there are no changes to the terms and conditions of our employees or pension schemes.
"We have injected fresh capital into the company and will be looking to invest in our staff, fleet and systems going forward.
"We are over 18 months into the plan that we started in 2018 and are in a strong place with passenger growth, improved income and a booming coach operation.
"As an independent company we will be quicker, more agile at decision-making and, therefore, better able to react to opportunities as they arise."
"Our decision to step down from our commercial bus operations in the Bournemouth deregulated sector pertains to our strategic focus on our franchise operations in London, together with our sightseeing and coach businesses in Bath, London and the North West," said Laurence Batlle, Chief Executive Officer of RATP Dev.
"Under the leadership of David Squire and his team, Bournemouth Transport has undergone a major transformation.
"The agreement completed today will ensure the company has local ownership and management.
"We are delighted that we can enable Bournemouth Transport Ltd and its employees to pursue a promising way forward and wish them every success."
Read more news here: cbwmagazine.com/category/news