MAN is opening a brand-new wholly-owned purpose-built £5m dealership on a 3.3-acre site on the Team Valley Trading Estate in Gateshead, Tyne and Wear. John Lewis attended the launch
Situated just 800 yards from the company's 24-year-old 1.5-acre outlet in Earlsway, which it replaces, MAN's new operation in Dukes Way Central, Princesway North, occupies a 24,424 sq ft building with a workshop that boasts 12 bays. A further bay could potentially become home to an Authorised Testing Facility and is equipped accordingly.
In sight of the massive Angel of the North sculpture, the Gateshead investment forms part of MAN's £20m programme of investment in the 17 dealerships it owns.
It includes the opening of a new site in Stockton-on-Tees planned for 2020 as well as the completed refurbishment of its locations in Bellshill near Glasgow and Nuneaton in Warwickshire in 2019. Its outlet at Broxburn not far from Edinburgh has been revamped too.
Aware that a growing number of electric vehicles are likely to go into service over the next few years – a right-hand-drive version of the electric TGE suitable for conversion into a minibus will go on sale in the UK in 2020 – MAN has decided to widen its dealership workshop bays. The aim is to make it easier to remove and replace battery packs.
The premises, which took almost a year to construct, boast four double-vehicle electric charging points – the first UK MAN dealership to have them. "We're hoping to equip the roof with solar panels," said dealership General Manager, Matthew Forth.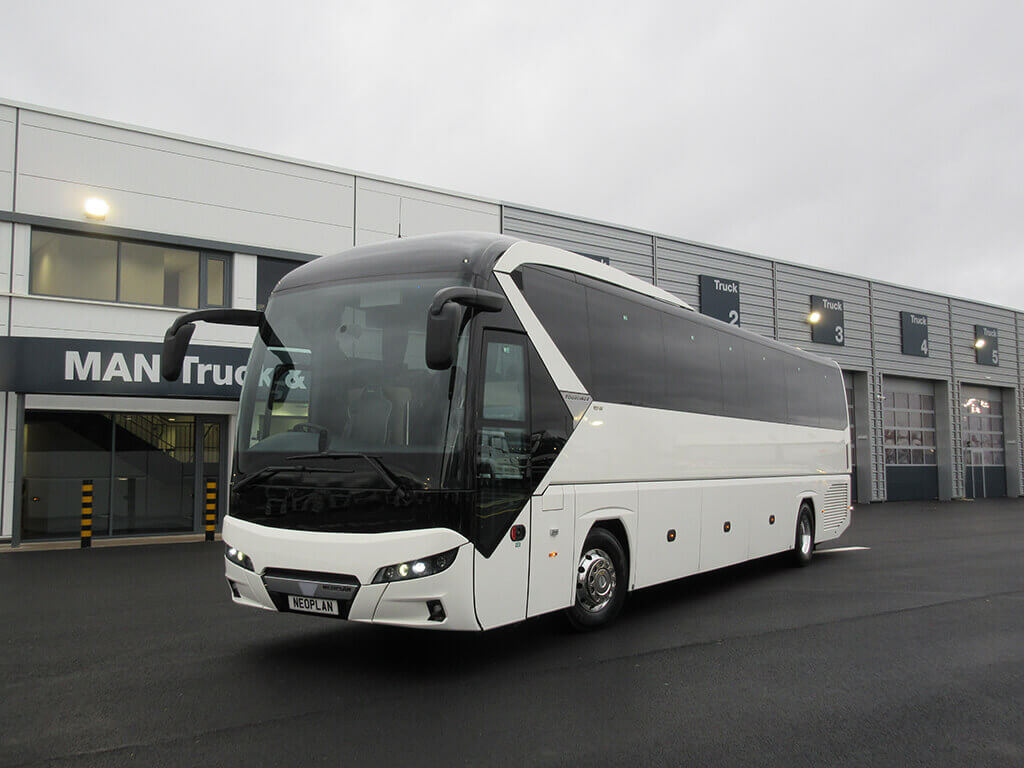 Trunking has been run to all four corners of the workshop so that more electric power can be provided as the demanded for battery vehicles grows.
The workshop will employ 20 technicians – five more than the old dealership – and be open 24/7 Monday to Friday. It will offer extensive weekend opening hours too.
Modern, well-kitted-out, premises undoubtedly help when it comes to recruiting and retaining service and repair staff. Workshop equipment includes two new brake testers, new compressors and a new 3.0-tonne-capacity overhead crane.
Inspection pits 28m long have been installed complete with jacking rails, lighting and air lines, and a set of six new Stertil Koni 7.5-tonne wireless mobile column lifts has been acquired. They enabled multi-axle vehicle grossing at up to 45 tonnes to be hoisted off the ground.
The site plays host to a new ramp designed to be used when vehicles are being steam-cleaned. No technician wants to work on a filthy vehicle, and one that is presented caked with dirt is likely to be refused an MoT test.
"At present we're achieving a 98% first-time MoT pass rate," said Matthew. He expects that percentage to be maintained at the new location.
"That percentage does not include passes on rectification by the way," he added. "We count those as a fail."
Most failures tend to be the consequence of minor faults – bulbs out, for example – rather than anything major.
A pair of Mobile24 service vans are available to aid customers if one of their vehicles breaks down.
Sitting some 800 yards from the A1(M) and two miles from the A1(M)/A194(M) junction, the new Gateshead site include a parts department with over £340,000 worth of stock. It boasts a carousel which can accommodate 2,300 part numbers when fully-loaded.
Two vans provide a local parts delivery service to operators with their own repair and maintenance facilities, and to independent workshops.
First-pick rate at dealer level across the network is 85% says Network Business Development Manager, Mitch Barnes, with everything else the customer is likely to require available the following day.
If a part is not on the shelves at a particular MAN dealership then it could be in stock at one a few miles up the road. MAN operates a system which ensures that the whereabouts of a vitally-needed item within its network can be flagged up and arrangements made to deliver it to the outlet that requires it.
"Support is also provided by our parts warehouse in Swindon and by direct deliveries from Germany," said Mitch.
Efficient parts support is vital given the high level of competition locally from factors – independent parts suppliers. Although they are sold in MAN boxes, many of the components the manufacturer uses are sourced from companies such as Bosch, WABCO and Fichtel & Sachs, all of whom make their products available to the factor market.
The building has an area which drivers can use while they wait to collect vehicles. Facilities include a digital television, vending machines for hot and cold drinks and cold snacks, and mobile phone charging points.
Employee welfare is not ignored, with a staff canteen and locker rooms as well as showers. The needs of both male and female staff are catered for and disabled access is treated as a key priority, with a lift making it easy to go up to the first floor.
"As our business footprint has grown considerably across both the Tyne Valley and the surrounding areas, then so has our requirement for larger premises," said MAN UK Managing Director, Thomas Hemmerich.
"This considerable investment in a new facility clearly demonstrates our long-term commitment to both the North East and to our strong customer base in the area," he added. "It will allow us to grow further across the region."
MAN's investment in dealerships in Gateshead and other locations and the consequent improvement in aftersales support should help its fortunes in what is undoubtedly a challenging market says UK Coach and Bus Sales General Manager, Wayne Ulph.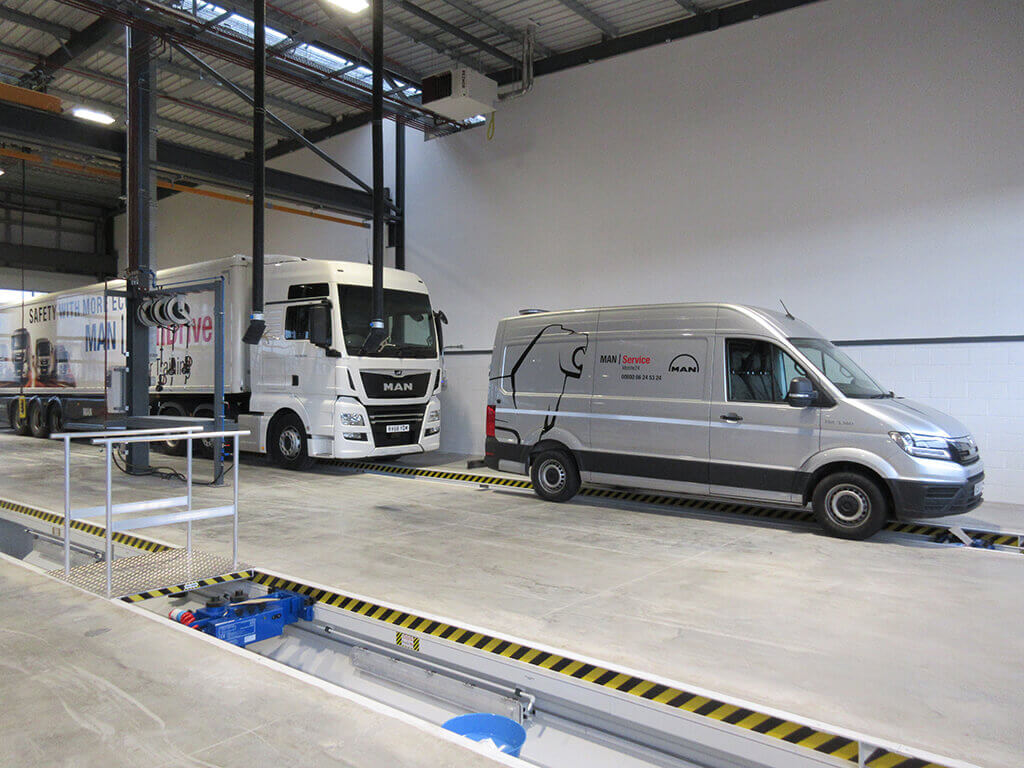 "What with the Public Service Vehicle Accessibility Regulations (PSVAR) and Clean Air Zones, the industry is completely upside down," he said. "It's tough being a coach operator at present and difficult to keep up with all the things that the regulators want from you."
This year (2019) should see Wayne and his colleagues sell 60 integral coaches and chassis. "We're hoping to do more in 2020 – I'd like to think that we could do 70 to 80 – and we're working with a third party to develop a PSVAR conversion which we should have up and running early in the year," he said.
Sales of TGE-based minibuses should reach 40 this year he says, with wheelchair-accessible 17-seaters accounting for the bulk of registrations. "I'm hoping we'll do double that figure in 2020," Wayne remarked.
Minibus Options is the favoured converter, and MAN has come up with a modification which ensures the location of the AdBlue filler point no longer prevents a front nearside passenger saloon access door from being fitted.
Not that this will be an issue with the eTGE. "We should see the first eTGE minibus appear towards the end of 2020," he said.
Wayne would like MAN to make an impact in the UK's full-size bus market again, and says that suitable chassis can be made available. He believes however that the company will have to join forces with an established British body builder in order to make greater headway and is hoping to talk to Bamford Bus Company, the new owner of Wrightbus.
Could the electric Lion's City E appear in the UK given the steadily-rising interest in battery-powered buses? "We'll have to see if it's going to be built with right-hand-drive," he replied.