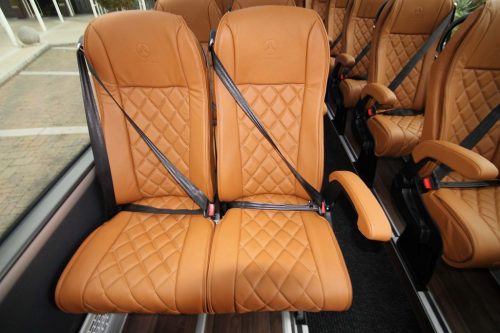 The vehicle's Executive Class seating has been specified with three-point seatbelts
Maynes of Buckie has added a new Euro 6 EVM Grand Tourer 20-seater Sprinter to its fleet.
The vehicle carries 19 Executive Class seats and a single courier seat, all with three-point seatbelts. This vehicle also comes with 30 built in handles, iPod slot holders, magazine pockets and leather tops on all arm rests.
Saloon and in-dash air-conditioning are fitted, along with a glass top roof vent.
The vehicle was also specified with full length convector heaters. The roof-mounted saloon air-conditioning is ducted through luggage racks above the seating.
For entertainment, the vehicle features an audio 15 upgrade radio SD system with iPod and Bluetooth inputs. The Grand Tourer also arrived with a 17" monitor, linked to a DVD player, and a driver's pedestal microphone.
The Sprinter is powered by a Euro 6 516Cdi 163bhp diesel engine, coupled to seven-speed G-Tronic automatic transmission. For luggage, the vehicle features a 2.8 cubic metre rear luggage compartment, which can be accessed via an elevating boot door, and luggage lockers with hinged locker flaps to the left and right hand side, each with lock facilities.
The vehicle features panoramic large framed curved double glazed windows in privacy grey and brushed with aluminum finished interior window capping. This vehicle also comes with a large coach type panoramic windscreen, with two roller blinds.