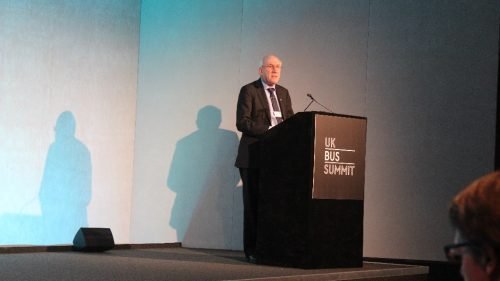 Mayor of London Sadiq Khan launches the first of 12 London ultra-Low Emission Zones
On the morning of Thursday, March 9, Sadiq Khan launched the first clean bus zone on one of London's most polluted high streets, Putney.
The route running from Putney Station to Putney Bridge Road will be the first of 12 new ultra-low-emission hotspots in the city. This stems from a request from the Mayor to TfL to reduce the harmful emissions and nitrogen oxide levels. This includes the phasing out of diesel only buses and committing to only purchase hybrid buses or zero-emission-double-deckers by 2018.
Putney High Street exceeded the hourly legal levels of nitrogen dioxide imposed by the EU on 1,248 occasions in 2016. Putney High Street will also have effective bus priority measures in place to keep bus delays to a minimum and reduce unnecessary pollution caused by sitting in traffic.
A report released by the Mayor claimed that every London borough has recorded illegally high levels of air pollution in the last two years, with Wandsworth having some of the highest levels.
The Mayor of London, Sadiq Khan, said: "London's toxic air is an outrage and I promised to make cleaning it up one of my top priorities. Today, I'm delivering on that pledge by introducing our first ever Low Emission Bus Zone. I have asked TfL to remove the oldest, dirtiest buses from our streets and this new route, along with the 11 others we'll be introducing, will make a big difference to the pollution caused by our public transport system. I now need other cities around the world to work with me to demand cleaner bus technology so we can phase out diesel buses altogether."
CBW spoke to TfL's Managing Director of Surface Transport, Leon Daniels, about the launch.
He commented: "It was a great event. Putney High Street has got 145 buses on seven routes ploughing through it and therefore it is the first obvious candidate of a number of zones where we will be concentrating vehicles that are Euro 6 or better.
"Of course, we are adding bus priority alongside other measures so that the emissions are as low as possible and as few as possible. The aim is to ensure buses and traffic are moving smoothly through the area and not congregating and contributing to poor air quality."
When asked about reallocating vehicles to the ultra-LEZ routes, he said: "Marginally yes, we have reallocated vehicles. The truth is that the corridors and the order we are doing them has some reference to the way of which new and retrofitted buses are due in the fleet so in fact the amount of redistribution is actually quite minor. In these zones we have taken account of the fact that the contract renewals. For new vehicles, especially double-decker's, we are only raking diesel hybrid or better and for single-deckers in central areas, we are only taking electric or similar.
"I need to be absolutely clear that these areas are not getting vehicles that have been robbed from somewhere else. We have got eight or nine hundred vehicles being distributed progressively across London fleets, plus the retrofits. There's no question that some areas have had to release vehicles with good air quality control to focus them elsewhere."
Commenting on the importance of air quality, he said: "Every year for the next three years so you will see a material change in the emissions from buses as they are sufficiently big enough for it to have an effect on air quality generally, so it will be possible to measure the difference.
"There is literally not a minute to lose. It comes down to people dying prematurely or suffering from respiratory disorders, which the Mayor empathises with as an asthma sufferer. A lot of this is due to transport, so doing what we can in our sector and everything we can control with traffic in greater London, may prevent respiratory issues."
The new Low Emission Bus Zones are as follows:
 Putney High Street – from Putney Station to Putney Bridge Road;
 Brixton to Streatham – from Brixton Hill via Stockwell Road and Streatham High Road to Streatham Place;
 A12 Eastern Avenue – from Blake Hall Road via High Road Leyton and Homerton High Street to Marsh Hill;
 Lewisham to Catford – from Bromley Road via Rushey Green to Lewisham High Street;
 Stratford – from Abbey Lane via Mile End Road to Woodgrange Road;
 Harringay – from High Road to Green Lanesp;
 Camberwell to New Cross – from Blackheath Road via Camberwell Green and Peckham High Street to Wood's Green;
 Wandsworth to St John's Hill – from Lavender Hill to Wandsworth Road;
 Edgware Road (Kilburn to Maida Vale) – from Cricklewood Broadway via Kilburn High Road to Shoot-Up Hill
 Edmonton to Seven Sisters – from Amhurst Park via Green Lanes and Seven Sisters Road to The Broadway;
 Uxbridge Road to Shepherds Bush – from Ealing Broadway via Hanger Lane to Uxbridge Road, The Broadway; and
 Chiswick High Road to Kensington – via Hammersmith