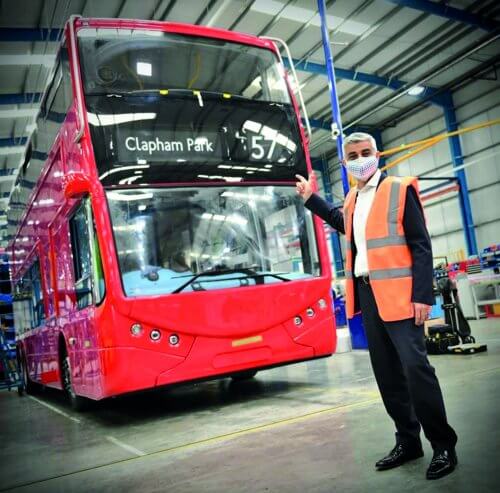 The Mayor of London, Sadiq Khan, visited the Switch Mobility factory in Yorkshire to 'champion the role that London plays in levelling up across the country and the importance of investment in green technology.' In a statement of his intent to build bridges between London and other regions, the re-elected Mayor is highlighting the role London's transport plays in creating a pipeline of high quality green jobs across the country.
Although it has been suggested that the 'levelling up' agenda could mean 'levelling down' London, the Mayor believes this is a mistake as London can play a vital role in aiding the national recovery and in helping to level up regions across the country.
London currently has 67 electric buses in service made by Switch Mobility and its forerunner Optare, with the delivery of 30 more in progress. The Mayor paid a visit to the manufacturer to see the benefits Transport for London's partnership with Switch Mobility has had on both regions.
London now has more than 500 zero-emission buses overall, an increase from 20 when Sadiq was first elected in 2016. The Mayor has set a target of making London's bus network zero-emission by 2030, cutting carbon dioxide emissions as well as reducing nitrogen oxide and particulate matter emissions.
Switch Mobility estimates that around 50% of its revenue last year was from TfL contracts and around 85% of its order book this year is with TfL.
By January this year, all buses in TfL's core fleet had been brought up to Euro VI emissions standards or better, following an extensive retrofitting programme to replace engines in older buses with cleaner ones.
Sadiq continued: "When I was signed in for my second term I pledged to build bridges between London and the rest of our country and to showcase how London can help the national recovery and the levelling up agenda. This Yorkshire factory, which is manufacturing state-of-the-art electric buses for London, shows how investment in our capital can help create quality green jobs across the country.
"Too often, the need to 'level-up' cities and regions across the UK is wrongly presented as a need to 'level down' other parts of the country, such as London – but that is in nobody's interest. When London succeeds, the UK succeeds and vice versa. London is ready and willing to play its part in ensuring a strong and green national recovery from this terrible pandemic."
Vice-Chairman of Switch Mobility, Andy Palmer, said: "Switch Mobility is honoured to supply EV buses to London. The company's transition from Optare to Switch allows us to leverage our now global markets to support jobs in Leeds. It is important that as the UK emerges from the pandemic that the country makes investments in the 'green' economy and that this investment is made in local companies where we can support local jobs. We look forward to strong future collaboration with TfL and West Yorkshire."