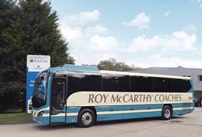 Cheshire-based Roy McCarthy Coaches has taken delivery of a 57-seater 12.2m Plaxton Leopard, the first variant of this length to be supplied.
The Euro 6 coach is built on a Volvo B8R chassis and utilises a ZF automatic transmission.
Andy McCarthy, Managing Director, said he is delighted with his latest addition and is particularly pleased with the vehicle's manoeuvrability.
He commented: "This shorter version of the Leopard retains all of the plus points of the bigger 12.8m model – but is easier to handle and that is a real bonus when turning in relatively confined spaces, such as schools, and often in rural locations.
"It also has 57 seats, which is ideal for school work, private hires and day trips. There is the added bonus that new drivers are more comfortable with shorter vehicles, which makes the learning curve that bit easier before they progress to full-length tour coaches."
Simon Wood, Regional Sales Manager at Plaxton, said: "This new model extends the appeal of the already popular Leopard, giving us models at 12.2m and 12.8m and, as Andy McCarthy has pointed out, it retains seating capacity while introducing improved manoeuvrability, courtesy of the shorter wheelbase.
"To an extent, it is a superb replacement for the former Plaxton Profile, while having its own distinct, modern features. We are already receiving a lot of interest from other operators."