Sandy and James Easdale promise further investment as 68 electric buses take to the streets of Renfrewshire and Glasgow
Transport companies need to go further and faster to play their part in halting climate change, the owners of the UK's largest independent bus operator have said. Sandy and James Easdale, owners of the McGill's Group, made the comments as the company formally unveiled its new fleet of 68 battery electric buses at an event in Renfrewshire on Thursday 30 September.
The total investment made by McGill's in the fleet is £32.5million, which has been aided by funding from the Scottish Ultra Low Emission Bus Scheme. McGill's is now the largest operator of electric buses in Scotland and the fleet will be serving the COP26 climate conference when it gets underway in Glasgow in a month's time.
James Easdale, Chair of McGill's Group, said: "It is crucial that everyone – individuals, businesses and Government – plays their part in trying to drive down carbon emissions. This year has seen a shift in attitudes towards climate change and there is a recognition that we need to act fast, not simply set new targets for a decade down the road.
"We're delighted to launch the new fleet of 68 all-electric buses which will deliver zero-emission journeys but this should only be the start for businesses such as ours. All transport operators need to act urgently to not only reduce their own carbon footprint and also work harder to entice people away from their cars. There are now almost 7.3million more cars in Britain than in 2000 – this rate of growth can't continue. We believe the new fleet will be an attractive option for the public but we're also looking at technology such as hydrogen buses and how we can get them into service. If Scotland and the UK is to lead the way on climate change then we collectively need to transform what we are doing and we're ready to invest to make that happen."
Sandy added: "The introduction of these additional vehicles into our Renfrewshire and Glasgow networks will bring a significant reduction in CO2 emissions, at over 2 billion grams every year. Yet purchasing new vehicles is not simply a tool to reduce our own emissions – it is about making bus travel an option for those who wouldn't consider it currently which will in turn reduce congestion and fumes from cars on the road."
Ralph Roberts, CEO of McGill's Group said: "The electric fleet provides a whisper quiet ride plus enhanced passenger comfort options through on-board air-conditioning and availability of USB charging. This is a significant step forward for our fleet and customers."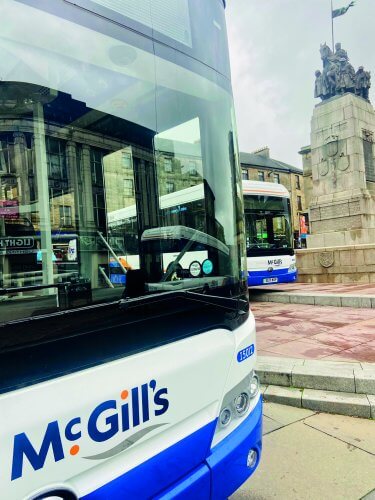 A launch event was held at the Cenotaph, Paisley. MCGILLS