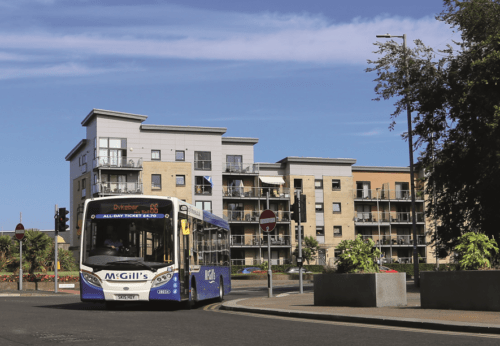 As part of World Car Free Day celebrations on 22 September, and to highlight the car-free options available across the region, McGill's Buses and Inverclyde Council partnered to deliver a 'Free Bus Friday' in the Inverclyde area, during which all journeys on the operators buses in the area were free.
McGill's Group Managing Director Alex Hornby said: "We were delighted to team up with Inverclyde Council in providing free bus travel across Inverclyde on Free Bus Friday. The bus is there to help solve the twin problems of congestion and carbon emissions and is an enabler to support the local economy. Free Bus Friday only serves to emphasise this message and we hope will encourage people to leave the car at home for the day and get out there by bus, helping to free up the traffic flow, and drive up trade and footfall at our brilliant local shops, businesses, and attractions.
"We are passionate about spreading our positive message about bus travel in Inverclyde and we'd love for as many people as possible to make the most of the bus network which benefits from many advanced, hi-tech and hi-spec, zero-emission electric buses. Passengers can log on to our industry-leading mobile app and website for details on how to make their journey.
"It's great news for Inverclyde and a great way to mark World Car Free Day."
Councillor Paul Cassidy, Inverclyde Council's vice-convener of environment and regeneration, said: "World Car Free Day is a great opportunity to encourage people to swap the car for other forms of transport, such as the bus, or active travel to discover Inverclyde and particularly our town and village centres. Thanks to grant funding from Paths For All and with support from local operator McGill's, we're delighted to be able to present 'Free Bus Friday', offering residents free bus travel throughout the day as an incentive to ditch the car."