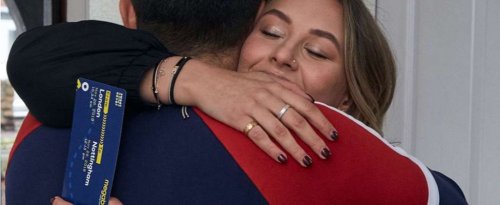 Research from intercity coach operator megabus has claimed parted partners spend on average £390.12 per month maintaining the relationship with travel, gifts and staying in touch.
In response, megabus is launching an industry-first 'Sweetheart Saver' trial ticket for those in long-distance relationships. The company will offer selected couples free travel for each partner between two destinations on its network for a year.
It is hoped the move will be welcomed by those laying out £163.33 a month on travel to see their love – an expense which outstrips the £146.03 spent on gifts and £80.75 on communication.
The research showed that the typical pair lives 231 miles apart. Not surprisingly, nearly a third (30%) cites distance as a key factor for a breakup, and one in three (31%) blame just not being able to spend enough time together.
Managing Director of megabus, Mark Venables, said: "It's clear from the research that long distance love often needs a bit of a helping hand, particularly as flights and trains can be so expensive. Many students in long distance relationships have recently headed off to university for the first time, and it seems less and less likely that these relationships will continue to thrive with the distance.
"At megabus, we are big believers in reuniting friends, family and loved ones through low-cost budget-friendly travel and we help four million passengers a year travel across the UK. We hope that the new 'Sweetheart Saver' ticket will allow more student couples to stay together throughout their time at university and we look forward to seeing how the trial period goes."
Hoping to keep the nation's love alive, the megabus Sweetheart Saver ticket is now available for 10 couples, with megabus planning to roll out the ticket nationwide in 2020 if the current trial is successful. To apply for the Sweetheart Saver ticket, and to watch the new megabus short film visit uk.megabus.com/sweetheart-saver.