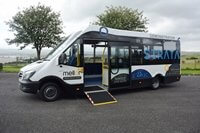 Mellor Coachcraft has launched its new low-floor minibus, the Strata.
The Sprinter-based coachbuilt vehicle – engineered with the oversight and approval of Mercedes-Benz – signals the expansion of the product range for the Rochdale-based manufacturer.
Mellor claims that while other low-floor Sprinter products available utilise the Sprinter van body to create a passenger saloon with 2+1 seating and a single wheelchair space, the Strata has had an entirely new 2.3m wide body engineered, ensuring its can provide 2+2 seating and a much larger low-floor section in which two wheelchairs can be accommodated.
The company made a significant investment in 3D Computer Aided Design (CAD) software to create a stainless steel frame and glass-reinforced plastic mouldings and interior plastics. It is designed to be hard-wearing and durable, while retaining a light and airy feel to the driver and passenger areas.
The Strata is equipped for fare-paying bus work, with destination displays, a rapid sliding entrance door and a ticket machine platform, while meeting DDA compliance.
INFO
A more in depth look at the new Strata is planned for the next Minibus supplement in CBW1249