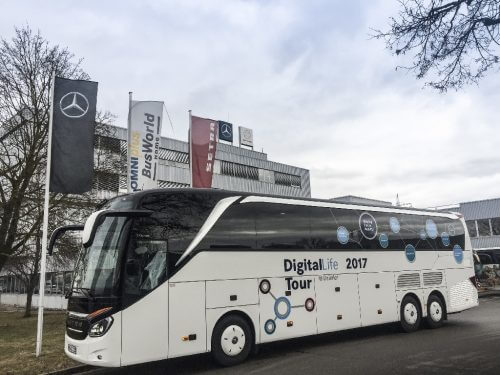 Mercedes-Benz explored cutting edge technology before and during Barcelona event
SPAIN Mercedes-Benz's involvement in this year's Mobile World Congress (MWC) in Barcelona started in advance of the event which was held last week. Ten selected participants of the Daimler hackathon series 'DigitalLife Campus' travelled from Stuttgart to Barcelona on a specially equipped Setra S516HDH tour coach. Their challenge on the vehicles' maiden voyage: programming a driverless RoboCab made from Lego components. Under a playful scenario, the self-driving robot taxi was supposed to pick up fares along a route and drop them off at a desired location.
The tour coach set off from Stuttgart and, with a stop in France along the way, took the international participants from the USA, China, India and Germany to Barcelona in time for the start of the MWC.
CASE stands for Connectivity, Autonomous, Shared & Service and Electric Drive. These were the future technologies which the Mercedes-Benz trade stand was designed to be explored at the event.
Each day interested visitors had the opportunity to experience the latest developments from the fields of connectivity, autonomous driving, flexible usage models, and electric powertrains.
The stand and its DigitalLife Café were places where people could meet and learn. Inspiration Talks gave visitors the opportunity to talk with experts about the Daimler digitization strategy, culture of innovation, and digital services from passenger cars to commercial vehicles. The talks were held three times a day. The 10 creative minds who participated in the Hack-on-Bus Tour also presented their results.