Mercedes-Benz delivered the first series production model of an urban bus with a fully-electric drive system to the public transport company Hochbahn AG in Hamburg.
Head of Daimler Buses, Till Oberwörder said: "Hamburger Hochbahn AG is one of the recognised pioneers for alternative drive systems in local public transport.
In producing the new eCitaro, we have developed a well-thought-out and sophisticated urban bus concept which will make a decisive contribution towards promoting electromobility in towns and cities. We are delighted to be able to deliver the very first series production vehicle today.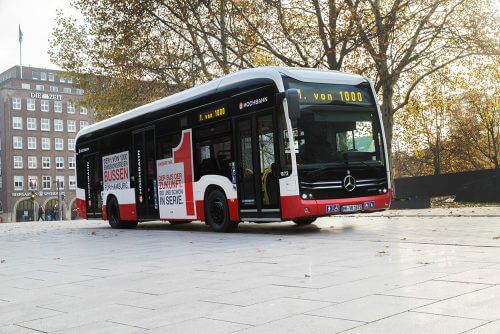 The eCitaro for Hamburger Hochbahn AG is the first of 20 – the biggest ever single order for buses driven by a fully-electric drive system from a German transport provider.
Prior to this Hamburger Hochbahn AG looked at several different concepts for urban buses with electric drive systems over a number of years.
Starting in 2020 Hamburger Hochbahn AG intends to purchase nothing but emission-free buses. It operates around 1,000 buses on 111 routes.
The Mercedes-Benz eCitaro is the first fully-electric urban bus to be developed and manufactured in Germany.
The modular battery packages have a total capacity of up to 24 kWh.
They are cooled to an ideal temperature in the eCitaro which results in maximum charging, the highest usable capacity and a long life cycle.
The batteries are recharged using a plug at the depot. They drive two electric motors at the wheel hub.
The three-door version for Hamburger Hochbahn AG boasts a comprehensive range of equipment with LED headlamps, LED exterior and interior lighting including ambient lighting in the passenger compartment, a warning system for closing doors with a red LED light strip, a separate automatic climate control for the passenger compartment and driver's cab and ESP, the Electronic Stability Program.
In 2017, the city of Hamburg and Daimler AG agreed on a comprehensive partnership for urban mobility.
Jörg Lamparter, Head of Daimler Mobility Services said: "Our partnership with Hamburg aims to expand electromobility across the board and promote innovative mobility solutions.
For example, we will gradually electrify the car2go fleet."