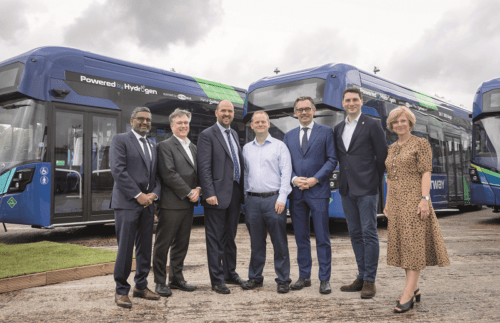 A further 34 vehicles will join the fleet over the next 18 months to create one of Britain's largest hydrogen bus fleets
The Go-Ahead Group launched a new fleet of hydrogen fuel cell buses for routes in the Gatwick Airport, Crawley and Horley area on Thursday 29 June. Once fully delivered, the fleet will comprise 54 vehicles, making it one of the largest hydrogen bus fleets in Britain. The order comprises Wrightbus GB Kite Hydroliner single-deck buses, which are the first hydrogen powered vehicles in Go-Ahead's fleet of more than 6,000 vehicles nationwide. Hydrogen will be stored at the Metrobus Crawley depot in liquid form at a refuelling station provided by Air Products, before being converted to gas held in tanks on the roof of vehicles.
The Crawley depot played host to a number of local stakeholders and politicians for a presentation and ceremony to launch the new buses. Richard Holden, Minister for Roads and Local Transport, was also in attendance, speaking at the event and touring the refuelling facilities. He said "Communities and commuters across the country know how important buses are – and these UK-made hydrogen buses could revolutionise transport for millions, bringing quieter and smoother journeys. It is great to see these 20 new hydrogen buses on our roads, one of the largest fleets in the UK, backed by over £4.3m of funding from our Ultra-Low Emission Bus scheme. With nearly 3,400 zero-emission buses funded across the UK since February 2020, this latest fleet puts us well on the way to meeting our target of 4,000 ZEBs."
Managing Director of Metrobus Ed Wills said: "I am delighted to introduce 20 new hydrogen buses to our Metrobus fleet and a liquid hydrogen refuelling station, which, once fully commissioned will be the largest of its kind in Europe. This launch marks a historic moment for our business and demonstrates our commitment to reducing emissions in the local community where the only thing that comes out of the bus tailpipe is water. A further 34 buses will join our fleet over the next 18 months through our partnership working with Surrey County Council."
Go-Ahead Group Chief Executive Christian Schreyer welcomed the new fleet: "These fantastic buses and the innovative refuelling depot demonstrate Go-Ahead's commitment to investing in a net zero future for transport. We're already the leading operator of electric buses in Britain and we believe hydrogen is a further piece in the jigsaw of decarbonising public transport – to the benefit of the environment and local communities."
Jean-Marc Gales, Chief Executive of vehicle supplier Wrightbus, added: "We are honoured to work together with the Go-Ahead Group to provide our industry-leading zero-emission buses for these important routes. Public transport is a key area in the UK's zero carbon ambitions and hydrogen has a vital role to play. Collaborations such as this one show the potential of UK industry to meet this challenge that we face."
You can read an in-depth feature about the introduction of these vehicles from page 16 of this issue, and watch the test drive on our YouTube channel from Thursday 6 July.