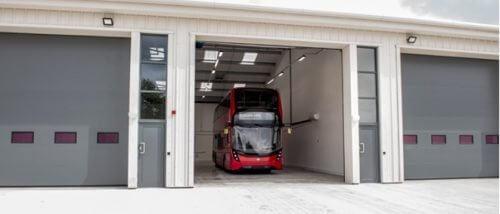 Millbrook Group has completed work on the latest phase of its Technology Park, which has been supported by £1.2m of funding from the South East Midlands Local Enterprise Partnership (SEMLEP). It adds new workshop facilities for the development and testing of commercial vehicles.
The new development features three large workshops with wide bays and tall access points, particularly suitable for buses, trucks and off-highway vehicles. Each workshop is 170m2 and includes dedicated office space. They are now available for short- term or long-term leasing.
Martin Hughes, Director – Proving Ground and Technology Park, said: "The Technology Park is already home to a number of vehicle technology companies, and these three new bays are perfectly suited to those working with commercial vehicles, thanks to the large size of the workshops.
"We offer our tenants excellent flexibility and many guests in the past have found that the proximity to our tracks and test facilities has been helpful. We also provide complete confidentiality."
Stephen Catchpole, Chief Executive, SEMLEP, said: "This investment demonstrates our continued support for key industries in our area that support economic growth. The South East Midlands is an important strategic area, at the heart of the Oxford-Milton Keynes-Cambridge innovation corridor.
"This project by Millbrook strengthens our area's critical position in vehicle testing and next-generation automotive projects, highlighted by Government as crucial to the long-term success of UK PLC."
Alex Burns, President of Millbrook, said: "These workshops provide the facilities and environment for technology companies to develop cutting-edge products. We look forward to welcoming a number of new companies working in the Bus, Truck and Off-Highway Sector onto the site now that these workshops have opened."