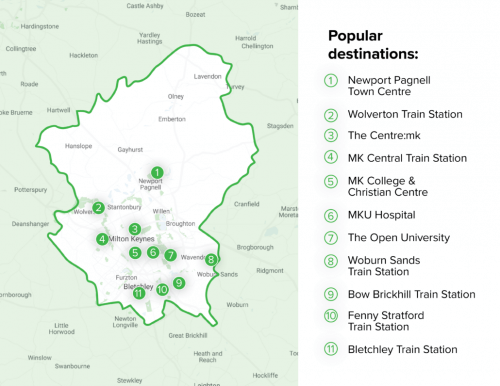 From 31 March, many supported bus services in Milton Keynes will come to an end, the city has confirmed, and be replaced by a new Demand Responsive Transport (DRT) which goes live on Thursday 1 April. Milton Keynes Council said that the current subsidised services are underused.
The city says that the new MK Connect DRT service will allow passengers to book a ride by phone, via an app or online, and be dropped within a short walk of your destination. The service will operate between 0600 and 2300hrs Monday to Saturday, and 0900 to 1800hrs on Sunday, and ENCTS concesionary passes will remain valid for free travel as it is on buses, as will the city's All-in-One £1 fare. MK Connect will be provided by Via. Fares will be £3.50 during peak hours (0700 to 0900hrs and 1630 to 1830hrs), and £2.50 at all other times.
Informing passengers of the change, Milton Keynes Council explained that journeys will not be restricted to bus routes and are expected to be faster than buses in most cases, with passengers collected and dropped off within 400m of their location and destination, although the local authority says the distance will usually be less.
Figures given showed that a large proportion (up to 86%) of passengers use commercial services, which will be unaffected by the change.
Councillor Jennifer Wilson-Marklew, Cabinet Member for Climate and Sustainability, said: "The new MK Connect service will be a more efficient and greener way for people to get around the city. As a non-driver and frequent bus user myself, I know that the service in Milton Keynes doesn't work for the majority of people. MK Connect, a partnership with Via, could change that for thousands of people currently let down by routes that don't run where or when they need them."