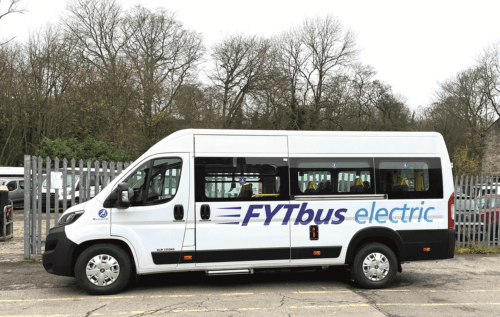 Specialist supplier of vehicles designed for accessible transport Minibus Options says it is proud to announce the launch of a new range of wheelchair accessible zero emission electric vehicles, which it says will be 'ground-breaking.' With a diverse line up featuring seating capacities ranging from five to 15 passengers and accommodating from one to three wheelchair users, subject to vehicle size, Minibus Options says the new vehicles represent a major advance in eco-friendly accessible transport.
"As the world continues to prioritise sustainability and environmental responsibility, Minibus Options recognises the urgent need for zero-emission solutions in the passenger transport industry. By harnessing the power of electric technology, we aim to revolutionise the way we provide accessible transportation while reducing our carbon footprint," said Minibus Options' Fred James.
Minibus Options says its new range of vehicles boasts the most up to date electric drivetrains that deliver useful performance and efficiency, and are equipped with battery systems that provide the best available range capabilities on a mid-size commercial passenger vehicle, allowing for longer journeys without compromising on passenger comfort or accessibility.
The company says it has collaborated with global automotive manufacturers such as Ford, Renault Trucks, Stellantis and Maxus to ensure the highest quality and reliability of its electric vehicles. Leveraging the expertise and experience of these industry leaders, it believes it has crafted a range of accessible vehicles that prioritise passenger safety, comfort, and inclusivity.
"With an emphasis on accessibility, each vehicle within the range is thoughtfully designed to meet the unique needs of passengers with disabilities. The interiors are spacious and ergonomically optimised, providing ample room for wheelchair users to manoeuvre comfortably. Easy to use access and restraint systems ensure seamless and secure entry and exit for wheelchair occupants, promoting independence and dignity," said Fred.
"The introduction of Minibus Options' electric vehicles marks a significant milestone in the accessible passenger transport industry. By embracing zero-emission technology, these vehicles contribute to a cleaner and greener future, reducing harmful emissions and improving air quality in our communities. Furthermore, the transition to electric vehicles enhances the overall passenger experience by offering a quieter and smoother ride, reducing noise pollution, and enhancing comfort for all occupants."