Across the country, more operators are working closely to provide improved access to vaccination centres.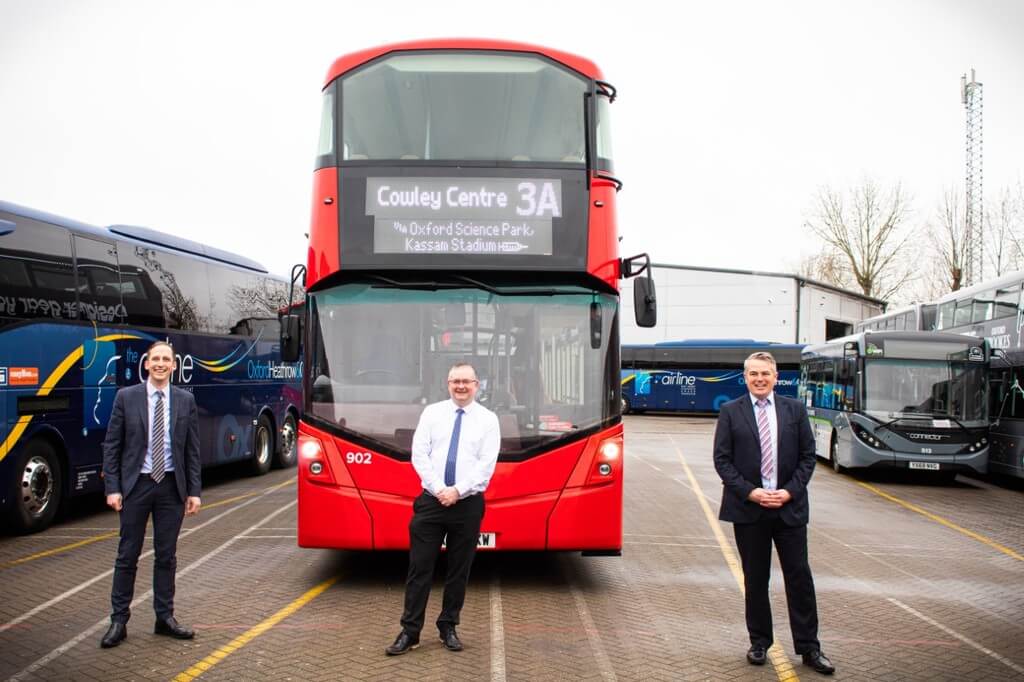 Oxford Bus Company and Stagecoach have amended services to provide crucial daily links to the new mass Covid-19 vaccination centre at the Kassam Stadium with revised timetables to provide a direct half-hourly service to the centre in Oxford, via the Oxford Bus Company city3A and Stagecoach 3A services. These will also be extended at both ends to serve desinations including Oxford railway station as well as the city centre. As many as 8,000 to 10,000 vaccinations are expected to take place at the centre weekly.
Direct services started on Monday 1 February on a temporary basis for up to six months. The services were made possible thanks to support from the government's Covid-19 Bus Services Support Grant (CBSSG), the operators working with Oxfordshire County Council to secure funding support to make the services economically viable.
Phil Southall, Managing Director of Oxford Bus Company, said: "We have worked closely with key stakeholders to ensure it was possible to provide this vital service. It is important as many people are vaccinated as possible, as quickly as possible, and we are proud to be supporting this public health programme." 
Chris Coleman, Managing Director of Stagecoach Oxfordshire added: "Our services exist to connect our customers to the people and places that matter most. Providing a vital link to the Kassam Stadium to those who have been offered the vaccine couldn't be a more important destination at this time and we are pleased to be in a position to do this after working together to respond quickly to provide a solution for Oxford Health."
Councillor Yvonne Constance, Cabinet Member for Transport at Oxfordshire County Council said: "Getting vaccinated is a top priority for all of us to help defeat the pandemic and so we as a council are glad to support it with this bus service to the stadium. Residents can be confident that travel by bus to the stadium is safe and will allow you to make your appointment in good time without adding congestion to the roads."
In the north, Go North East and Nexus have added two additional shuttle bus services to further improve public transport links to the vaccination centre at the NHS Nightingale Hospital North East at the Sunderland International Innovation Centre.
A new 'MetroShuttle' from Heworth Interchange started on Thursday 28 January and runs every 15 minutes from around 0700 to 2045hrs, seven days a week, to provide a connection from the Tyne & Wear Metro and other local bus services.
A third service, contracted by Nexus, started on Monday 1 February to provide a direct and free bus service link from Sunderland, Pallion, Hylton Retail Park, and Castletown to the Nightingale Hospital every 20 minutes between 0700 and 2100hrs, seven days a week.
The 'SunderlandShuttle'-branded service will be operated by JH Coaches, a small family-owned coach and bus operator from Birtley, under a new partnership arrangement with Go North East using its vehicles, branding, customer service support and technology.
The arrangement will ensure a consistent standard of service across all three bus links to the hospital, operating under the Go North East 'shuttle' brand and providing customers with a single point of contact for service information and customer service through the Go North East customer support team, website and smartphone app, including live vehicle tracking. The arrangement provides work for eight people in JH's driving team to operate the three buses.
Commenting on the new services and special partnership arrangement, Go North East's Managing Director, Martijn Gilbert, said: "We're proud to be working with the NHS and Nexus to bolster transport links by delivering a connection to the Tyne and Wear Metro and to have been chosen by Nexus to take the lead on a contract to deliver a third bus link from Sunderland to the North East's Nightingale Hospital vaccination centre.
"This is a really important facility that is providing this essential vaccination effort to local people. Both of these services have, again, been mobilised in record time by our team with just a few days' notice.
"We're committed to doing all that we can to work with partners to ensure that public transport plays its part in supporting this very important national effort and we are delighted that we've also been able to work with JH Coaches, a local coach and bus operator, for part of this.
"The current Covid crisis has had a particularly challenging impact on coach operators across the country, so to be able to ensure that this operation benefits at least one of them will be helping further support our local economy and employment. It is an example of collaboration that is very much the spirit of the pandemic response."
Ian Shipley, Director of JH Coaches, said: "We're excited to be working with Go North East and, in turn, Nexus and the NHS, to help deliver this very important shuttle bus service. It is great seeing a large PLC operator work to support the communities it serves and with a smaller business like ours.
"The current economic challenges for coach operators are now well known through things like the Honk for Hope campaign, so this additional work is a helpful addition to our business, which provides many other essential services such as school transport and other local bus contracts."