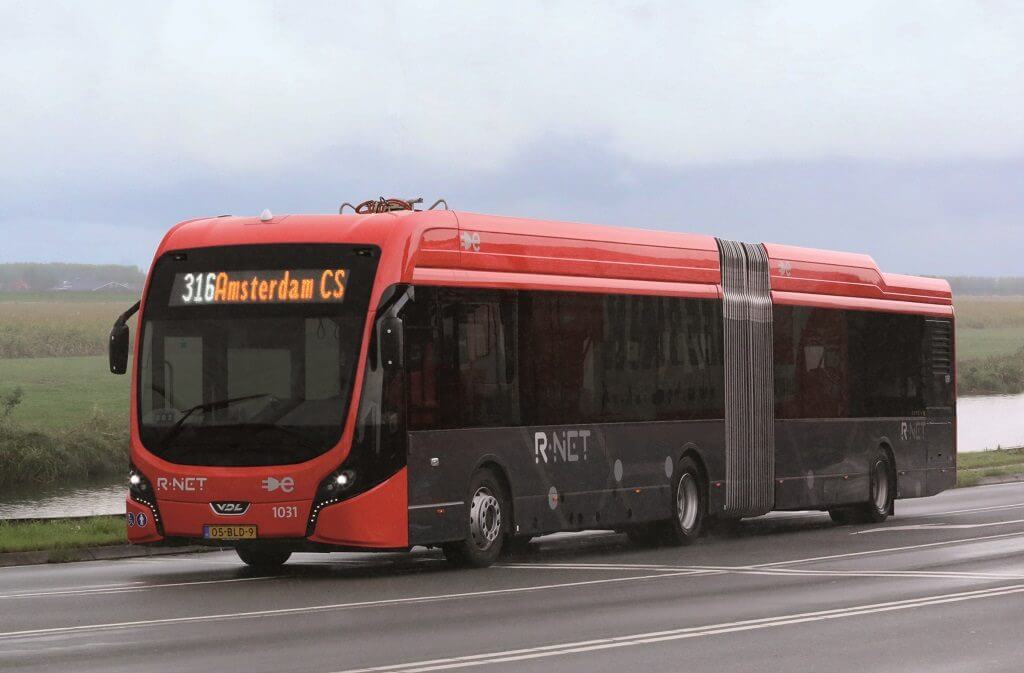 Dutch capital's fleet of articulated electric buses is bolstered by a further 10
VDL Bus & Coach has supplied EBS with 10 electric Citea SLFA-181 artics which are being used on R-net route 316 between Amsterdam and Edam-Volendam. Utilising the buses will result in 135,000 electric kilometres per vehicle per year.
Ard Romers, Managing Director VDL Bus & Coach Nederland, said: "We are proud that, as supplier of the electric buses, we are making a major contribution to the further sustainability of public transport in the Netherlands.
Through the deployment of these electric buses on line 316 we and our partners, EBS and concession grantor Amsterdam Transport Region, are demonstrating even more possibilities for electrification of bus transport."
The VDL Citea SLFA-181s for EBS have been built with a three-door configuration with room for 50 seated and 80 standing passengers. The driver is informed about the driving performance and current status of the vehicle via the standard digital instrument panel. Deluxe seats, WiFi and USB connections are designed to further enhance passengers' travel experience.
The buses' batteries have an energy capacity of 169kWh and are charged at the Edam bus station during the day using rapid chargers with a maximum capacity of 450kW. On a fully charged battery they can make the round trip from Edam via Volendam to Amsterdam Central Station two times. After a charging session of less than 15 minutes, the bus is fully recharged and can travel the route again. At night the buses are charged with a maximum power of 30kW at a depot in Purmerend.
EBS has been providing the public transport in the Waterland region, directly north of Amsterdam, including the connections to and from Amsterdam since December 2011. On a weekday, 40,000 passengers use its services in approximately 200 buses. The current Waterland concession, which involves close collaboration with concession grantor Amsterdam Transport Region, will last until the end of 2021.