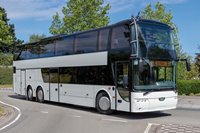 ITALY Seven VDL Synergy double-deckers have entered service with Autoservizi F.V.G. S.p.A., part of the Arriva Group.They are being used on intercity services in the Friuli-Venezia-Giulia region of north-eastern Italy and this order brings the number in the SAF fleet to 23. SAF Autoservizi chose the product again because of its passenger capacity, good fuel economy and low operating costs.
The new coaches are 13 metres long and can accommodate 82 seated and 16 standing passengers, delivering a total capacity of 98. A wheelchair lift and wheelchair space are included in the specification, making the vehicles convenient to use by disabled passengers as well.
SAF Autoservizi provides intercity and interregional transport as well as maritime services. The fleet consists of over 450 vehicles and the company has around 600 employees. More than 830,000 domestic passenger trips operate annually of which nearly 310,000 are intercity and more than 520,000 interregional. The company also offers international service to Switzerland, France, Luxembourg, Belgium and Croatia. Each year more than 25m passengers are carried over 17m kilometres. SAF Autoservizi has been part of the Arriva Group, itself owned by Deutsche Bahn, since 2004.