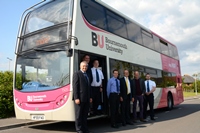 The new bus contract will create a number of benefits for passengers in the area, including increased service frequency, and will encourage students and staff to travel more sustainably through public transport
Morebus has been awarded a 10-year contract by Bournemouth University (BU), allowing the operator to continue providing the service across Bournemouth and Poole.
The move follows the success of an existing partnership between the university and the bus operator, which has carried more than 950,000 between campuses in the region this academic year – a 22% increase on the previous 12 months.
The new fleet will be comprised of 12 double-decker Euro 6 Alexander Dennis (ADL) Enviro400 MMCs. The vehicles will offer free WiFi and USB charging points.
The buses are designed with a distinctive BU livery, and operate between Bournemouth town centre and the University's Talbot campus – with additional services reaching out to Poole town centre.
The 10 year agreement, which also involves Arts University Bournemouth, is worth between £13m and £17m and takes effect from August 2016. It involves increases to frequency and capacity and improved access to the university seven days a week. A range of measures designed to encourage students and staff to travel more sustainably in support of the University's travel plan are also being promoted.
Passenger numbers have seen significant growth due to the partnership between BU and Morebus, with bus users on the route up to 140% since 2009/10. It is expected that almost one million passenger journeys will have been completed by the end of this academic year.
Andrew Wickham, Morebus Managing Director, said: "We are privileged to be awarded this tender and are excited to be working in partnership to further develop and grow the success of the University bus network over the coming 10 years."
Jim Andrews, Chief Operating Officer at Bournemouth University, said, "The University Bus Service provides an essential public transport solution for students, staff and the community. The University has invested heavily in the service and passenger numbers have grown significantly over the last five years.
"We expect the new service to provide over a million passenger journeys in the first year, and we anticipate greater growth in passenger numbers over the life time of the contract.
"The new service will offer a high quality high frequency public transport option for the local public, as well as university passengers."
Bournemouth University and morebus are working together on developing a new brand for the service – due to be unveiled for the start of the new academic year.