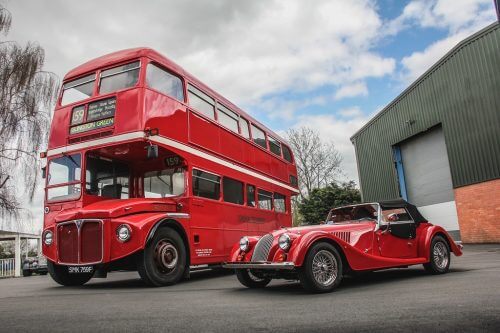 Morgan Motor Company is to bring an iconic Routemaster bus – the second-to-last edition to have been withdrawn from service – back to the British public at events throughout 2018.
Like the first Morgan Plus 8, the bus was manufactured in 1968 and delivered for its first service in January of that year. The Routemaster – registration 'SMK 759F' and fleet number RML2759 – is thought to have clocked over 1.5 million miles during its lifetime. The vehicle was withdrawn from service after nearly 44 years, on December 9, 2005. Crowds gathered along the 159 bus route, from Marble Arch to Brixton, as it took its final journey.
Morgan Motor Company acquired the vehicle at the beginning of 2018. The company said it is in incredible condition and work is underway to make sympathetic conversions, preserving its characteristics and many of its original features. The Routemaster will share 50th anniversary celebrations with the Plus 8 and be an accomplice at multiple events for Morgan throughout 2018.
The Malvern-based company is known for its hand-crafted vehicles, and as such all designs for the bus as well as enhancements will be carried out in-house.
RML2759 is powered by a 7.7-litre Iveco diesel engine. Its sister vehicle and the very last of its kind to be taken out of service can be found on display at the London Bus Museum at Brooklands.
Steve Morris, Managing Director of Morgan Motor Company, said: "The Routemaster bus is arguably one of the most iconic vehicles in existence. It serves as a symbol of Britain and is part of our national identity.
"It therefore gives us great pleasure to continue the life of one of the last decommissioned buses as our event space. Morgan has an exciting year ahead, and we can't wait to utilise the bus at events all around the UK. Our plans for the bus will make it the ideal event space for Morgan customers and enthusiasts alike."