Campaign aims to reduce gender gap in West African country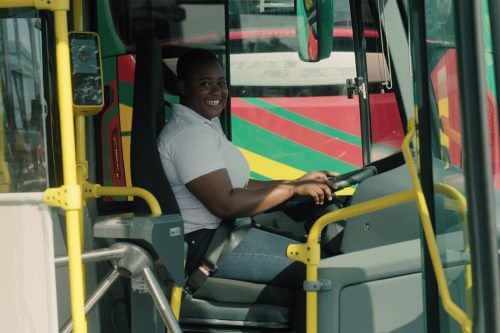 GHANA The campaigns 'Women moving the city' and 'Women moving trucks' aim to reduce the gender gap in Ghana's transport industry. Nearly 100 women have trained to become bus or truck drivers in the capital Accra.
Scania West Africa is playing an important role in inspiring this change. The company is working with the Greater Accra Transport Executive (GAPTE) and Deutsche Gesellschaft für Internationale Zusammenarbeit (GIZ) to boost the number of woman drivers in the city's public transport system.
"Scania already has a big presence in Accra," said Fredrik Morsing, Managing Director, Scania West Africa. "The Bus Rapid Transit system has been working for several years, and the city is ready to take on female drivers. We hope that this initiative will not only be an opportunity to start a new career, but that it will also be a challenge to the existing drivers to improve their performance."
Ladybird Logistics is a new company that only employs female drivers. The company is playing a key role in 'Women moving trucks,' and is training 22 drivers. "Using Scania methods, the drivers learn to drive safely as well as keeping total operating economy in mind," said Payin Marfo, Ladybird Logistics' Managing Director.
The campaign has also teamed up with Esenam Nyador, also known as Miss Taxi Ghana because she has her own taxi company. Esenam is driving efforts to improve the gender balance in public transport.
"In a profession where women constitute a decimal percentage, the projects can only be celebrated as a welcome collaborative effort to help desegregate the driving profession," she said.