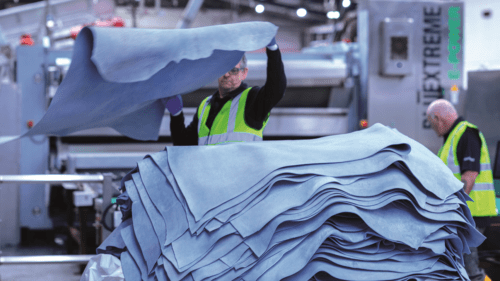 Specialist supplier of low-carbon high performance leather to the aviation, rail, bus and coach industries Muirhead Leather has announced the opening of its new £14 million, hyper-efficient 'super tannery.' The company's landmark project, which has taken seven years to deliver, will build on Muirhead's sustainability standards and further enhance the production what it believes is the world's lowest-carbon leather for aviation and passenger transport.
Setting new standards for leather manufacture, the new facility is the result of the latest round of multi-million-pound investments by Muirhead parent firm Scottish Leather Group and forms part of the group's 20-year strategy and commitment to continuous improvements in sustainability.
Tanning is a crucial part of the leather production process, whereby the raw hides are treated in drums filled with water and tanning agents to transform them into Muirhead's durable, high-performance leather material. The 14 new 'super' drums replace 30 conventional hide drums, enabling Muirhead to process larger batches while unlocking significant improvements in environmental performance. The tannery's hide processing technology brings about a further step change in energy and water use, with a reduction of 82% in energy use and 42% in water use compared to the group's previous equipment.
Nicholas Muirhead, Chief Executive Officer at Scottish Leather Group, said: "Since 2003, we have continuously invested in strategic initiatives designed to optimise and improve productivity, quality and sustainability. The new Super Tannery is the latest significant milestone on that journey, a state-of-the-art facility that builds on the considerable savings we have already made in reduced energy and water use, improving our efficiency, and futureproofing our production. This will provide our customers with further evidence of our position as the leader in the supply of the world's lowest carbon leather."
Despite the dramatic increase in efficiency, Scottish Leather Group will retain the same number of technicians on site, as skilled workers remain crucial to ensuring its sector-leading quality standards, the company says. In addition, and as part of the group's commitment to complete circularity, the outgoing wooden drums from the tannery have also been stripped down and repurposed.