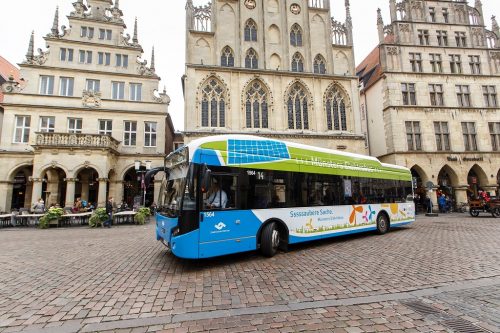 Dutch manufacturer secures repeat order from German operator for electric city buses
GERMANY VDL Bus & Coach has received a follow-up order for an additional five Citea SLF-120 Electrics from Stadtwerke Münster. It follows operation of an initial five electric vehicles that has lasted almost two years and was within the framework of the subsidised SEB (Quick charging system for electric buses in local public transport) project and ZeEUS (Zero Emission Urban Bus System).
The operator and VDL have been able to collect valuable practical information about, and experience of, the use of electric bus systems in an urban environment. To date, VDL electric vehicles have accumulated more than 4,500,000km on the road.
The Citea SLF-120 Electrics for Münster have a passenger capacity of 80. They are all equipped with pantograph systems, but unlike the first five vehicles, the latest ones have them positioned over the front axle. The 180kWh battery pack that will be installed in the new buses is designed to increase operating range and ensure greater flexibility.
They will be equipped with a Siemens central motor, which further reduces maintenance costs.
VDL says that developments in electrical mobility are advancing at a lightning pace. The transition to zero emission local public transport not only involves buses, but also all turnkey systems for public passenger transport. Zero emission buses are already operating on a daily basis in numerous cities, proof, says the manufacturer, that small-scale test projects are now very much a thing of the past.