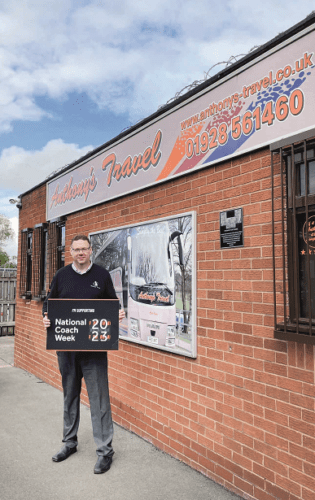 As part of its National Coach Week programme, the RHA brought together coach operators, MPs, and Tourism Minister Stuart Andrew to address pressing issues facing the coach industry. Three key topics were focused on during the discussions: the driver shortage, decarbonisation, and the impact of cross-border delays on international coach travel.
Driver shortage
The impact of driver shortages for operators alongside demands for increased wages is increasing operating costs and putting the low-cost reputation of the coach industry at risk, says the RHA.
Members agreed on the causes, highlighting the lack of career pathways for school-leavers and insufficient vocational education across the country. It was noted that the profession of coach driving is rarely presented as a viable option for students, leading to recruitment challenges. Additionally, driving restrictions on 18-year-old coach drivers and difficulties in obtaining affordable insurance for drivers under 25 discourage young talents from pursuing careers in the industry, it was reported.
Several coach operators shared their ways of implementing training programmes and offering two-year contracts that cover the cost of training. Visa agreements with the European Union were also identified as a contributing factor, and some emphasised the importance of allowing coach drivers to qualify for visas, enabling the recruitment of drivers from abroad.
Net Zero
Participants said that the sector received less support than other industries during and after the pandemic, creating financial pressures and hindering investments in decarbonisation. The lack of necessary infrastructure posed the greatest hinderance, it was agreed, and while hydrogen was deemed a more feasible alternative to Euro VI diesel than battery-electric, the scarcity of hydrogen-powered coaches and the absence of supporting infrastructure were highlighted as major challenges. Others emphasised the need for funding and support of the UK and EU to prevent dependence on Chinese-made hydrogen coaches in the future.
Border issues
Participants addressed border issues, particularly the delays faced by coach operators and passengers in April. Concerns were raised regarding insufficient infrastructure and facilities at Dover, and understaffing. The reduction in coach allocation on the Eurotunnel was identified as a significant cause of bottlenecks, leading to increased traffic at Dover.
While the UK Government has limited control over Eurotunnel's allocations, it was believed that there is an opportunity to improve staffing levels and facilities at Dover to alleviate the border-related challenges faced by coach operators.