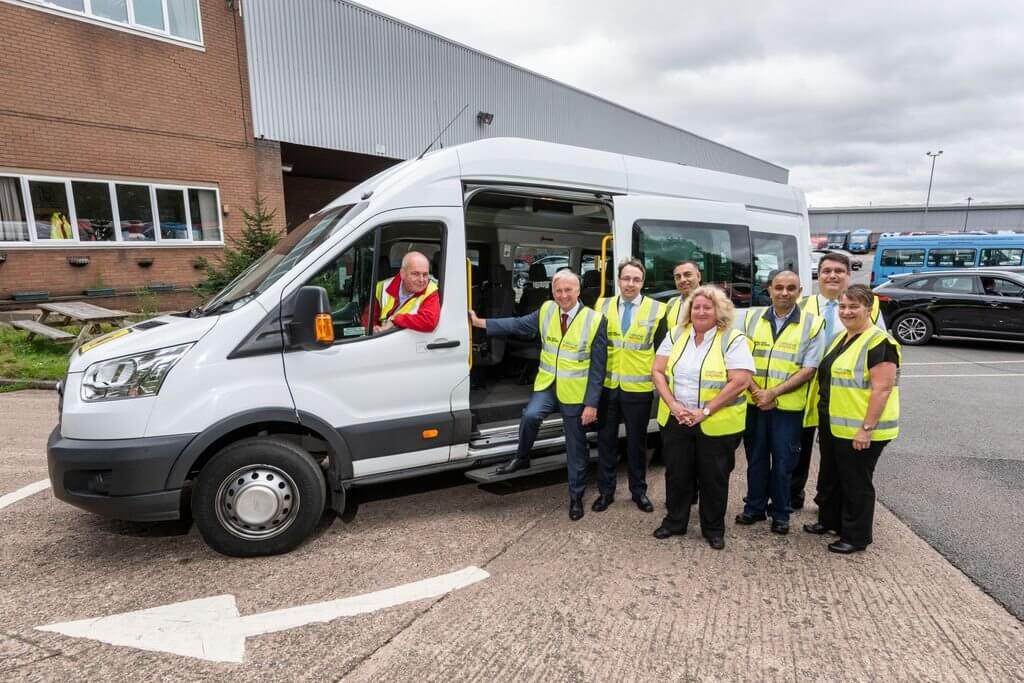 National Express West Midlands has expanded its operation with the acquisition of ATG, safeguarding 600 jobs and ensuring that vital special school services and Ring and Ride services continue to operate
On 1 August 2019, National Express Accessible Transport officially became part of National Express West Midlands.
The changes are a result of ATG (which operated home-to-school transport service to Birmingham special schools, as well as the West Midlands Ring and Ride) going into administration. David Bradford, Managing Director of National Express West Midlands, said: "We are very happy to have been able to safeguard 600 jobs as well as these vital community services.
"It's a matter of great pride that as of yesterday (1 August 2019), all our new colleagues are now being paid the real Living Wage.
"Our management team have been going out to the depots to meet as many people as we can. We've found so much enthusiasm, and together we've already started talking about how best to invest – in vehicles, in technology and world-class training – to make these services even better for the users."
Birmingham City Councillor Kate Booth, Cabinet Member for Children's Wellbeing, said: "I'm so pleased that National Express has come on board with us to provide this vital service. It is the largest provision of home to school transport, and the largest guided service, in the country; all through primary and secondary years.
"The service mostly supports those children with special educational needs and disabilities (SEND) who can't be expected to make their own way to school because of a disability or issues relating to their special educational needs.
"Of the 6,000 children the entire home-to-school service supports, 4,250 are transported using taxis and minibuses, with some of the 600 transport routes having a guided service.
"We're really pleased with this outcome. National Express is a nationally-recognised provider that has a track record of providing a modern and reliable service. We will be working very closely with National Express to ensure that the service they operate will provide the best outcomes for our young people."
Any changes to an individual child's transport provision – as happens for every new school year – will be provided to parents over the summer as is standard practice.
ATG also operated the door-to-door Ring and Ride service which has 12,557 registered users across the region. It is aimed at people, often disabled or elderly, who have difficulty using conventional public transport.
On 15 August the West Midlands Combined Authority (WMCA) welcomed a new contract to secure the future of the door-to-door Ring and Ride accessible service.
The Ring and Ride service, which was a registered charity, had been supported with £7.1m of funding per year from Transport for West Midlands (TfWM), which is part of the WMCA. The WMCA continued to provide the funding during the months of administration since March 2019, which enabled the service to continue running.
Cllr Ian Ward, leader of Birmingham City Council and WMCA Portfolio for Transport, said: "When the previous operator collapsed, we were clear that funding for Ring and Ride remained available and that everyone must be able to book, change or cancel their journey in the same way as before.
"I'd really like to thank the dedicated staff of ATG, who have continued to provide the service during a difficult time for them. I'm pleased that the service has continued uninterrupted thanks to them, National Express West Midlands and the administrators."