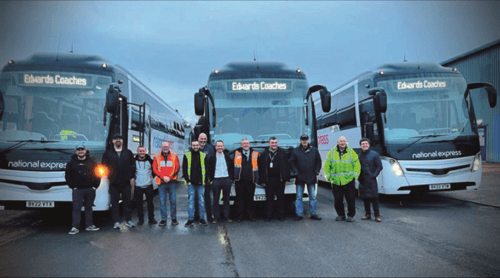 National Express is appealing for help in telling its story as it marks 50 years on the road. The iconic brand is urging staff, customers and coach enthusiasts to get in touch with their memories from the last half decade and be part of a summer of celebration in 2022.
Chris Hardy, Managing Director of National Express UK Coach, explained: "We've clocked up 3.8 billion miles in the last 50 years. That's a lot of journeys and a lot of people travelling with us; whether to see friends and family, get to university, go on holiday or attend events. We want passengers and staff, past and present, to get in touch with us with their stories. It could be a couple who met on the coach and fell in love, a driver who dealt with an unusual item of lost property, or one of the famous hostesses referenced in the classic Divine Comedy song.
"The average age of National Express coaches you see on the road today is only three and a half years but we know there are some great examples of decommissioned vehicles out there and we'd also love to hear from heritage coach enthusiasts who have memorabilia or even a vintage coach in their collection."
The submissions will be collected and archived and a selection will feature in an online storybook being created to mark the milestone. Other activities planned to mark the occasion include a 50 day giveaway, the publication of a commemorative hardback book and a number of events across the UK to share the history and showcase the modern coach travel of today.
Chris added: "Coach travel has moved on immeasurably in the last 50 years. Journeys are quicker and more reliable, our coaches are safer and more comfortable than ever; and we've continuously invested to ensure we have the greenest fleet on the road. But what hasn't changed is that we've always been all about people. I believe that's a big part of why we're still around and able to celebrate 50 years on the road and is something I'm immensely proud of. I'm excited to see what the future brings as we rebuild after a difficult two years and can't wait to hear what stories are submitted."
Stories can be submitted via the National Express website, by email to [email protected] or by post to 50 Years Appeal, National Express House, Mill Lane, Birmingham B5 6DD.