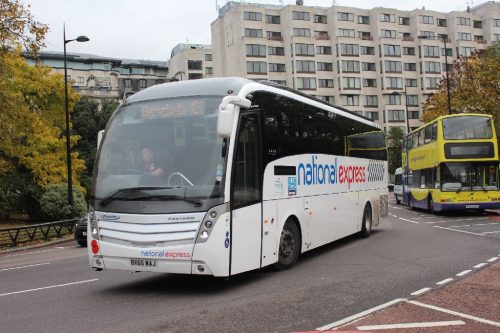 National Express has said it has delivered a record-setting Christmas, with the highest ever number of passengers carried in a single day.   
Over the Christmas period, it provided a total of 60,000 extra coach seats compared to previous years, serving 11 towns and cities for the first time on Christmas Day, helping to cover for over 200 rail projects and major station closures – as well as the annual Christmas shutdown.
Tuesday, December 27 saw the highest ever number of people travelling by coach on a single day, with 75,000 tickets sold, while both Monday, December 26 and Tuesday, December 27 saw National Express take over £1m in revenue.
Passenger numbers during the Christmas weeks (Saturday, December 17, to Saturday, December 31) increased by 18% year-on-year. Some of the coach operator's routes grew in patronage by over 50%, while airport services performed particularly strongly, with numbers rising by 22% in the same period.
The most popular journeys over Christmas this year were inter-airport services, long-distance routes to London and the 060 between Leeds, Manchester and Liverpool.
A record was also set for the number of people travelling on Christmas Day itself – an increase of 167% since National Express reintroduced December 25 services in 2013. A total of 76 stops in 64 different towns, cities and airports were served, with passengers on many services being able to enjoy, for the first time, VUER – the company's newly-launched onboard entertainment system.
National Express Managing Director, Chris Hardy, said: "Christmas 2016 has been absolutely outstanding and December 27 saw us carry the highest ever number of passengers in a single day.
"There was a time when people couldn't travel on Christmas Day, but we've changed that with our unrivalled national network of services and our relentless focus on delivering a first class experience for our customers, including the recent launch of our onboard entertainment system VUER, has ensured more people travelling with us than ever before.
"People need to get to where they want to go 365 days a year, including on Christmas Day, and so we're pleased to have played our part in getting more people together. We are already in the process of planning for this year."