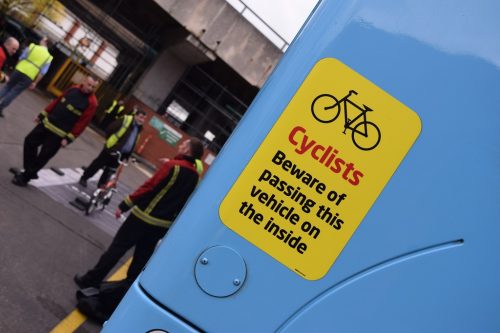 National Express has been working with West Midlands Fire Service and Birmingham City Council to improve cycle safety on the region's roads.
The operator fitted warning stickers to all 1,600 vehicles in its fleet to help cyclists ride safely around buses, at the request of Birmingham City Council.
Cllr Stewart Stacey, Birmingham City Council cabinet member for transport, said: "We want all road users to feel safe when they're travelling around their own city. We will endeavour to make sure that everyone who needs to share our roads can do so safely, especially cyclists and pedestrians."
Fire officers from West Midlands Fire Service also visited the National Express Coventry bus garage at Pool Meadow to talk to the drivers about Operation Close Pass. This scheme highlights the dangers posed to cyclists from other road users by showing bus drivers exactly how much room to allow when going past cyclists. The Operation has been running across the West Midlands for over a year.
West Midlands Fire Service highlighted the issue by bringing road markings which clearly indicated the metre-and-a-half gap that all drivers should leave when overtaking cyclists.
Tom Stables, National Express UK Coach Managing Director, said: "You can never stop learning about safety. We are constantly looking for innovative ways to make the roads safer for all users.
"Our Coventry bus drivers really appreciated the chance to learn more about this aspect of road safety, especially as many of them are cyclists and motorcyclists too."