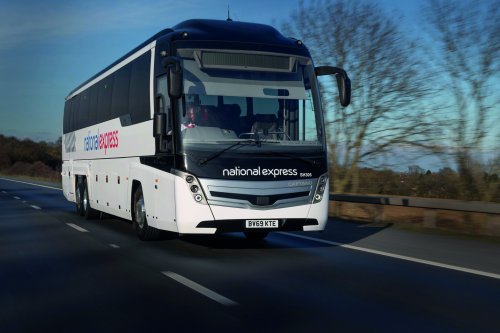 The familiar sight of National Express' white coaches returned to the UK roads on Monday 29 March, with the operator promising its customers more in 2021.
Chris Hardy, Managing Director of National Express UK Coach, said: "It's a great feeling to be getting hundreds of drivers back behind the wheel. We're excited to play our part in the UK public's safe return to travel."
The restart comes with a significant number of changes which National Express says promise customers a better overall experience when booking and travelling in 2021.
An initial limited timetable, equivalent to around 15% of the standard intercity network, will be expanded quickly; adding new locations and routes and increasing frequency as restrictions are lifted and customer demand grows.
A new full UK-wide timetable will offer quicker journey times, increased punctuality and improved connectivity, including:
Average journey time between Birmingham and Manchester reduced by 20 minutes; and
12 daily journey options from Leeds to Bristol (previously four) with an overall journey time of 30-60 minutes faster.
With more people predicted to take a domestic break this year, the new schedules will also include all major UK holiday destinations.
Chris Hardy continued: "This is just the beginning of a better National Express. We've always focused on doing the right thing for customers and by continuing to do so, we will grow back quicker and stronger.
"This includes significant investment in making the iconic white coaches the greenest fleet on the road. The average age of a vehicle is only three years old and every one meets the highest possible engine emission standard of Euro VI."