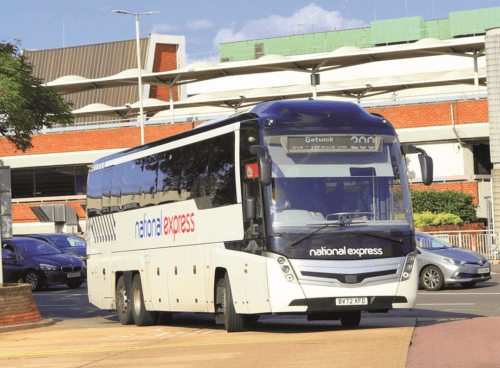 National Express is working with Women's Aid to support survivors of abuse by providing free coach travel across the UK. The 'Road to Refuge' scheme provides women, men and children escaping domestic abuse with access to free travel aboard the company's coaches to enable them to reach safe refuge accommodation and support.
The scheme aims to help those in need, for many of whom paying for travel can be very difficult and become a barrier to seeking refuge as survivors will likely be carrying little money and belongings when fleeing abuse. The new Road to Refuge scheme is an extension of Women's Aid's Rail to Refuge programme whereby survivors can access free travel on the UK's rail network. Since the launch of Rail to Refuge in April 2020, the scheme has supported 7,432 people, including 2,146 children to travel to safety, an average of six per day.
National Express initially supported the expansion of the Rail to Refuge scheme in summer 2022 during ongoing rail strikes by offering coach services for free when those turning to the scheme were unable to flee by train.
Charlotte Masters, Customer Experience Director at National Express, explained: "We are proud to partner with Women's Aid on the Road to Refuge scheme, offering survivors free travel to a safe place on our extensive coach network across the country. Our aim is to make the process of travelling as stress free as possible for survivors, taking away the financial barrier to escaping abuse and helping them reach their destination for help and support, safely. Survivors can now access free coach travel in an emergency, when fleeing to refuge."
Farah Nazeer, Chief Executive of Women's Aid, added: "Domestic abuse isolates survivors from their finances, making it incredibly difficult to escape to safety. We are delighted to be working with National Express on the Road to Refuge scheme, removing the financial barrier to fleeing abuse and helping survivors access safe refuge at no cost to them.
"It is a vital scheme for survivors who would otherwise be trapped and at a huge increased risk of further abuse. The Road to Refuge scheme will be truly lifesaving, giving survivors the opportunity
to travel to vital, specialist support for free."