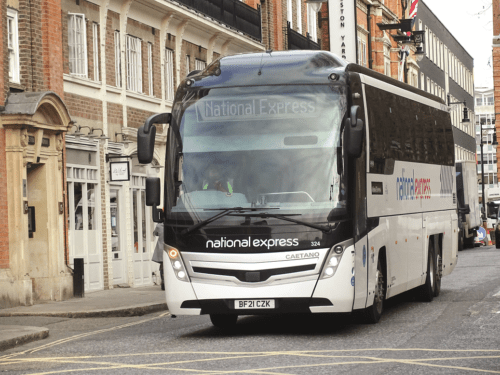 New services and new coaches form part of the latest announcement by National Express which will see its network grow further
National Express has announced plans to grow its network across the UK this spring with 15 new routes, and an emphasis on fast, frequent services between major cities, towns and airports, taking the network's capacity up to 11,000 journeys across the country each week. Significant investment is also being made in adding 130 new vehicles to the fleet.
The operator reports a 'huge surge of customers' in 2022, with over 16 million people travelling on its services – up 10 million from 2021. The Queen's funeral, the return and growth of music festivals and events, plus the disruption caused by rail strikes are believed to be contributing factors in the increase; the company says that a combination of rail strikes and soaring costs for motorists are having a deepening impact on traveller behaviours, with as many as 10% of rail users switching to coach travel for better value and reliability of service.
Service Delivery Director Ed Rickard said: "More and more customers are turning to coach for great value, reliable and sustainable travel. It's encouraging to see customers making the switch from other modes of transport and choosing our coaches. With our record customer satisfaction scores, they clearly like what they've seen, which gives us confidence that the demand is there.
"We're expecting 2023 to be even busier as we roll out our uplift in service provision, with forecasts predicting 21 million customers travelling by coach to get them where they need to be."
Having celebrated its 50th birthday last year, National Express currently operates over 550 services across the country. New routes already launched this year include between Stansted and Luton airports and central London, between Huddersfield and Birmingham, Grimsby and Birmingham, Edinburgh and Liverpool, and Edinburgh, Glasgow and London. Still to come in late April are new routes from Leicester to Derby, from Hull, Grimsby, Rugby and Penzance to London, and Nottingham to Stansted Airport. Late May sees an additional Newcastle-Leeds-London service serving Durham and Darlington, whilst mid-July adds a new Poole-Portsmouth-Gatwick route serving a number of South Coast destinations.