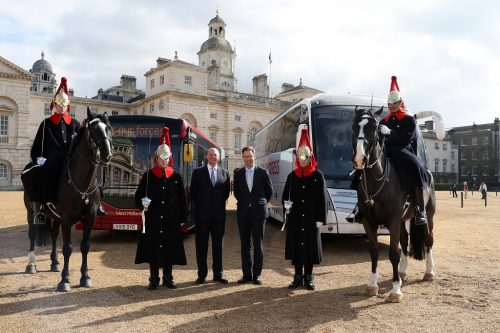 The offer now guarantees interviews for service leavers for all National Express coach and bus roles, with extended discounts and free travel offers available
National Express has officially renewed its commitment to supporting the Armed Forces, their families and veterans.
Group Chief Executive Dean Finch joined with Tobias Ellwood MP, Minister for Defence People and Veterans and serving and ex-members of the Armed Forces, to publicly mark the signing of a new Armed Forces Covenant at Horse Guards Parade.
The Covenant acts as a formal promise by a company to officially demonstrate support for the Armed Forces. The coach division of National Express was the first company in the UK to sign up five years ago and has extended this promise with new pledges that will now cover both the UK coach and bus businesses.
The new pledges from National Express will:
• Offer guaranteed interviews to service leavers for all National Express roles across coach and bus (originally only available to those with a PCV licence);
• Include spouses and families of service leavers in its guaranteed interview scheme;
• Provide 10 days extra leave for staff in the Reserve Forces;
• Extend its existing discount of 60% on coach travel for serving personnel to include group bookings;
• Offer a discount for bus travel on its West Midlands network; and
• Offer free bus travel to families visiting soldiers at the Military Hospital at the QE in Birmingham and to volunteers on Remembrance Sunday.
The company already employs over 40 former forces personnel and reservists in a variety of roles, including drivers, health and safety officers, bus engineers and customer service advisors. These personnel come from roles from all over the Armed Forces including the Royal Marines, Royal Signals, Royal Engineers, RAF, Navy and Gurkhas, ranking from private all the way up to major.
In the five years since the first Covenant was signed, more than 100,000 serving and former forces personnel have taken advantage of discounted coach travel through the Defence Discount Scheme. National Express has also provided £60,000 worth of free travel to thousands of people using The British Legion's short break centres and raised tens of thousands of pounds for Armed Forces related charities, including over £30,000 via online donations from its customers when buying tickets for the Royal British Legion.
Dean Finch, National Express Group CEO, said: "We're very proud to have been the first company to sign the Armed Forces Covenant and I am delighted we are signing an even greater commitment today. Armed Forces personnel and their families do a great service to this country and it is right that companies like ours do what we can to support them.
"We employ many ex-services members and current reservists and also want to recognise their significant contribution to our company and the country. Our extended commitments demonstrate both the success of our first covenant and our commitment to growing this important partnership with the Ministry of Defence. I would like to thank all involved in this great initiative."
Tobias Ellwood MP added: "It is a sign of success that National Express is re-signing the Covenant and re-committing its support to our Armed Forces community.
"As the first signatory of the Covenant, they've shown clear leadership and will continue to inspire companies to give back to those who have given so much to their country."
Bernie Cassidy, Head of Engineering at National Express, served 24 years in the Royal Electrical Mechanical Engineers, starting as a private in 1988 and working his way up to be an officer. He said: "I think the Armed Forces Covenant is a really valuable tool, purely because it gives people in the military an opportunity to show what they are capable of. Having the opportunity to have a good employer come face-to-face with you takes a bit of the fear away from what's going on and gives direction."
Roles will be advertised through the Ministry of Defence's official provider of Armed Forces resettlement – The Career Transition Partnership – and National Express. Discounts are available via the Defence Discount Scheme.