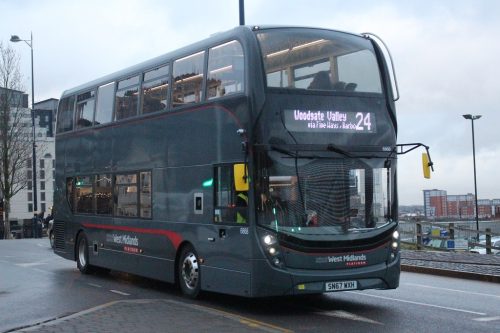 Though UK operations see a small decrease in revenue, there is patronage growth, improved profit and margins and more efficient bus mileage
Overall revenue increased from £2.09bn to £2.32bn, with normalised operating profit increasing to £241.5m (2016: £217.5m) on a stable 10.4% margin. Normalised profit after tax stood at £152m, up from £137.2m. Earnings per share increased by 10.6% to 29.1p.
UK bus operations saw a marginal decrease in revenue, from £276.8m to £275.3m. However, operating profit increased by £2.7m to £36.7m, with operating margin increasing by 1% to 13.3%. National Express said its West Midlands Low Fare Zones (LFZ) had resulted in 4% patronage growth and 1.5% revenue growth. The group's commercial mileage decreased by 1.5%, resulting in improved revenue per mile of 1.6%.
Coaches saw revenue grow from £282.8m to £287.7m, with operating profit increasing by £0.9m to £34.2m. Operating revenue increased slightly from 11.8% to 11.9%.
The National Express operations abroad performed well, with North America seeing normalised operating profit grow from £84m to £94.3m and ALSA seeing a £10.2m growth to £94.9m.
Dean Finch, National Express Group Chief Executive, said: "I am very pleased with our performance in 2017. Strong performances in our North American and ALSA divisions, combined with growth in our UK businesses, have delivered significant increases in group profit, revenue and cash generation.
"We carried more passengers than we did last year, reflecting the strong focus in all our businesses on good service and value for money. Our international diversity is an important asset, but it is particularly pleasing that all divisions contributed strongly to our Group performance. The second half performances of our UK businesses were particularly impressive.
"We continue to invest in the future success of our business, with our focus on operational excellence and the deployment of technology to raise standards and drive efficiency. We will continue to pursue new growth opportunities, including through further acquisitions to add to the nine we made in 2017.
"I believe our industry-leading position means we are well-placed for the upcoming concession renewals in Spain. Although the business has suffered weather disruption in North America at the start of 2018, I expect the missed days to be recovered later this year and I am so far pleased with the above inflation price increases in school bus contract renewals.
"Our strategy is simple: we focus on providing well run, safe, value for money services in and around some of the most affluent cities and regions in the world. This sustainable strategy is proving to be highly successful as the proposed 10% increase in the final dividend demonstrates.
"I am looking forward with optimism to the coming year, which I expect once again will deliver growth in revenue, profits, cash flow and dividends."